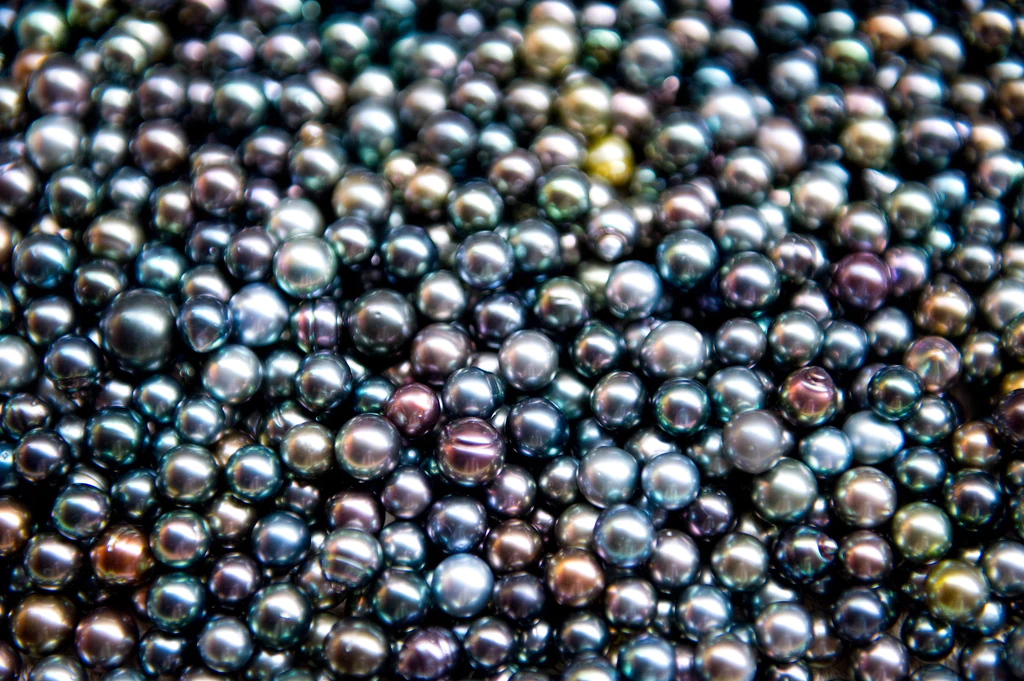 If you're planning your adventure to Tahiti, Bora Bora or nearby islands and thinking of getting an exclusive ~one-of-a-kind~ souvenir, like Tahitian pearls, this post is for YOU. Here, I share all you need to know about these famous black gems. Most importantly, I help you avoid getting ripped off and find the best deal!

But first, let's start with the basics.
Table of Contents
Tahiti Pearls: Why are they so treasured?
The Tahitian pearls, once called the 'pearls of queens' are now a material representation of femininity, romance, and eternal love. They're unique for their captivating darker tones, surfaces that shimmer and shine as they refract the light, and unbeatable top-notch quality.
If you get authentic Tahitian pearls, you can enjoy these staying beautiful for years to come.
In fact, there's no such thing as a 'bad Tahitian pearl' (unless fake). They're all grafted locally, and cultivated from the black-lipped Pinctada Margaritifera oysters. Tahitian pearls grow in the purest turquoise Polynesian lagoons and get hand-picked by expert Tahitian farmers.
The Tahitian government evaluates them according to their shape, color, luster, and size. They're rated from A-D and 'the imperfect ones' are processed into a pearl powder (hence, no way of getting bad-quality authentic pearls).
Good to know : What do we mean by a "cultured pearl"? Farmers always try to keep these as natural as possible. However, the pearl formation still requires a lot of "human input" and intense care to carry out the graft. This process is called "pearl cultivation".
5 easy ways to identify Tahitian Pearls
So, how are Tahitian pearls different? And how to choose the best one for you?
As I already mentioned, the Tahitian government rates them from A-D.
A is the best of the best - the most expensive, and D is the lowest - the cheapest (yet still high Tahitian pearl quality).
These stunning gems vary in the following factors: size, color, luster, surface, and shape, and based on them get their rating. Read on as we explore the different variations, and share how they differ in their ratings.
1. Color
As you probably already know, Tahitian pearls are unique for their blackish dark tones.
But. They're not all black! Thanks to the rainbow-like mantle of the Pinctada margaritifera (a black lip oyster), they can form a ~rainbow~ of predominant natural colors. If the inside of the shell shows some greens or blues, these will probably appear in the pearl too.
Tahitian pearls come in colors ranging from graphite to metallic silver with greenish, bluish, or purplish overtones.
Here are specific names for each Tahitian pearl overtone for you to choose from:
Tahitian gold — golden black
Peacock — (a combination of shades such as blue, green, purple and pink) - Rarest one!
Cherry / Aubergine — purplish black
Lavender — bluish black
Silver — gray
Pigeon gray — purplish gray
Moon gray — pale gray
Orient gray—surface iridescence
Champagne — yellowish gray
Pistachio — greenish gray
The rule of thumb for Tahitian pearls is this: The darker the color, the more valuable the pearl. Black Tahitian pearls with a greenish luster are considered the most exquisite. Expect to pay double for this type of Tahitian pearl.
But of course, I recommend you choose Tahitian pearls that suit your style, skin tone, and your wardrobe. Make sure you can pair them well with things you already have and love the way they look on you.
🤓 Nerdy insight: Wondering what the amount of black pigment depends on? How can it be all-natural?
It all comes down to the black lip oyster. The more black pigment the black lip oyster secrets, the more profound the depth of color. And the varying shades? These follow the same principle as raindrops passing through light to form a rainbow. Except for this time, it's the pearl's surface.
2. Luster
This is the gloss that reflects from the pearl's surface. Tahitian pearls are prized for their divine glossy finish with a mirror-like sheen.
Yet, since everyone's got different preferences, the shops in Tahiti offer something for all. You'll find pearls with both - matte and shiny black pearl jewelry.
Some jewels actually prefer pearls with less luster. They tend to have a softer, satin surface that's usually easier to work with.
If you're also more after the matte pearls, good news! They're much cheaper and easier to find (just not authentically Tahitian). This is because matte pearls don't require as much care and they form in a natural environment (unlike Tahitian pearls grafted on farms).
Good to know : In general, if light reflections are bright and sharp, the luster is considered high to very high. If light reflections are weak, the luster is dull. 
3. Surface
The surface is THE deal breaker. If the pearl's surface is good, the colors and the luster get to show up in their full beauty. When the experts rate the quality of Tahitian pearls, the pearl's surface is the main thing they evaluate.
Here's a deeper breakdown of each of the quality ratings.
Tahitian pearl Quality A
Quality A Tahitian pearls while still boldly natural come with a perfectly smooth glossy finish (good luster). They show only one or two ripples on 10% of the pearl's surface. If you'd like to own some of these super rare luxe Tahitian gems, be ready to really splurge. (We're talking like even $10 000 per bigger size pearl.)
In average, a loose round Tahitian pearl A/B with a diameter of 12,7mm, would cost you around $450.
Tahitian pearl Quality B
Quality B Tahitian pearls consist of an average luster and some tiny imperfections on less than a third of their surface. But don't worry. If you get a Tahitian pearl necklace with B-quality pearls, they'll mask the blemishes as they drill in the holes for you.
Loose round Tahitian pearl B/C with a diameter of 12,6mm, would cost you around $235.
Tahitian pearl Quality C
Quality C Tahitian pearls are defined by their average luster and light imperfections over less than two-thirds of their surface. What makes these appealing to most people is their mighty size, playful color combinations, and vibrant dark tones.
Loose ringed Tahitian pearl C with a diameter of 14,3mm, would cost you around $100.
Tahitian pearl Quality D
Many dealers, jewelers, and pearl pros argue that D-quality Tahitian pearls shouldn't even be on the market. Tahitian pearls graded as D have a soft satin luster and deep flaws over less than half of their surface. They're considered as the lightly imperfect ones.
You won't usually see loose Tahitian pearls D in stores. But a whole 44 cm Tahitian pearl necklace (quality D - baroque pearls) with a diameter of 11mm, would cost you around $700.
4. Tahitian pearl sizes
The Tahitian pearl sizes are always measured according to their diameter. Most Tahitian pearls have a diameter measuring between 8mm and 14mm. But of course, sometimes there are little giants with diameters reaching between 16mm and 18mm.
5. Tahitian pearl shapes
Tahitian pearls come in various shapes. They fall into these 4 categories:
round
almost round
baroque
circle (a type of baroque pearl)
Round pearl shape
Round Tahitian pearls are the rarest and most expensive ones. Only less than 10% of the cultured pearls produced become round. Tahitian pearls are bead nucleated but the process is only occasionally 100% successful.
The farmer will insert a round shell bead inside the oyster and try to influence the pearl shape. He hopes to help the oyster to produce a round shape.
However, while the bead does increase the chance, it's still the oyster and mother nature that are in charge. 90% of the time the farmer will be getting a near-round-shaped Tahitian pearl.
Baroque pearls
The baroque and circle-shaped Tahitian pearls are famous for their gorgeous overtones.
Since round Tahitian pearls are not that accessible, baroque pearls are some of the most valuable & desired gems in the world. The baroque Tahitian pearl shape reflects the light from many angles, allowing the colors to pop.
Here is a quick recap of Tahitian Pearls Properties*
Why are Tahitian Pearls black?
Firstly, I'd like to point out that what jewelers call black is in reality ~all the darker colors. However, here's the gist. While most black (dark) pearls around the world (like in China and Japan) are black because of chemical dyes & treatments, French Polynesia is where the real magic happens.
Tahitian pearls are naturally black and get their color from being cultivated in black-lipped oysters. Besides being natural, this also makes black Tahitian pearls fully sustainable jewelry.
Where can I buy Tahitian pearls?
Some of the most popular places to buy Tahitian pearls in French Polynesia are these:
Auctions in Papeete (sold twice a year)
You'll find here Tahitian pearls harvested by some of the best local pearl farms. Auctions happen twice a year.
Retail shops in Papeete
Retails buy their Tahitian pearls from private local farms. Here are some of the most popular retail shops in Tahiti selling Tahitian black pearls.
Tahiti Pearl Market - Offers also a short film on Tahitian pearl farming.
Tahiti Perles - Located at the Tahiti pearl museum.
Retail shops in Bora Bora selling Tahitian pearls
Here's a list of retail shops specializing in Tahitian pearls in Bora Bora, French Polynesia.
❤️ Let's start with my favorite - Arc En Ciel. I love them for their private showroom with a pearl expert Wendy. She's a pearl GIA graduate that guides you to pick the best pearls for YOU. Expect fair prices, the friendliest service, and a free shuttle. Tell Wendy that Billie sent you 😉
Tahia Pearls - Elegant & creative designs in the Center of Vaitape.
Robert Wan : You can visit their pearl museum in Papeete, French Polynesia, or visit one of their many store locations. Find them either in Vaitape village, Intercontinental Le Moana, or Conrad Nui Bora Bora.
Directly at the farms
If you're keen to go for a Tahitian pearl adventure, you can visit a black pearl farm directly. However, know that the home of pearls isn't really in Tahiti. Most pearl farms are on islands located in the Tuamotu and Gambier Archipelagos.
As pearls require pristine clean waters, most farmers harvest them further out of the tourist zone.
You can go on a pearl education journey, and get an experience of a lifetime. You'll learn all about the Tahitian pearl cultivation process and you'll personally meet the farmers!
These people passionately work on every task necessary for nurturing oysters in the lagoon, grafting, to harvesting quality Tahitian pearls. You'll find a beautiful community of workers honored to bring you this rich piece of jewelry.
Online
Don't want to bother with Tahitian pearl hunting on your holiday? No worries. You can always buy them online too. French Polynesia is the second-largest exporter of loose pearls. Yet, as with everything online, you won't truly know your product's story and you might get scammed.
If buying online be sure to do thorough research beforehand.
A few pro tips on pearl shopping:
Research first and look around for a variety of stores specializing in black pearls
Try asking for a discount! (You've got nothing to lose)
Only buy black pearls with a certificate of authenticity stating 'Tahitian Cultured Pearl'.
How much do Tahitian pearls cost?
The cost of Tahitian pearls ranges from $250 to $30 000. It all depends on their size, shape, weight, color & overtones, and overall quality. The price a Tahitian pearl necklace can cost you even around $50 000. 
For all the ~'treasure hunters': This is your place to go!
Explore black pearls even further at Papeete Pearl Museum. Here, you'll learn all about the black pearls' mythology, history, science, and art of Tahitian black Pearl and jewelry.
Get Tahiti pearls on a budget.
So, are there any options for those on a tighter budget? Yes, even those with limited budgets can indulge in some Tahiti pearls during their stay.
Insider tip : You may find some SUPER cheap pearl earrings and bracelets around (and inside) the market in Tahiti. Don't be fooled by the price; if it sounds too good to be true, the pearl is most likely fake.
Here are two easy tips to buy real Tahiti pearls while staying on a budget.
Buy your pearls in Tahiti, not Bora Bora
If you're planning to go pearl shopping during your stay in French Polynesia, here's a tip that could save you some money. Instead of purchasing your pearls in Bora Bora, consider buying them in Tahiti. While Bora Bora is known for its high-end resorts and luxurious atmosphere, it's also known for its high prices. Pearls (and everything else) in Bora Bora will be significantly more expensive (especially if purchased in the resort shops).
On the other hand, Tahiti has a wider range of shopping options, where you can often find pearls at more affordable prices.
So, if you have some flexibility in your travel plans, consider making a stop in Tahiti for your pearl shopping. You may be surprised by the quality and affordability of the pearls you find there.
xx
Buy Loose Pearls
When looking to purchase pearls, it can be a fun and unique experience to buy them loose instead of as part of a complete piece of jewelry. In Tahiti, there are stores that offer this option, such as Vaimiti Perles.
At these stores, you can start by browsing through various boxes that contain pearls sorted by size, color, and quality. This allows you to find the perfect pearl that meets your individual preferences & budget. Once you've made your selection, the seller will then place all of the pearls from the box on a towel in front of you, which allows you to examine each one up close.
This is where the fun really begins - you can touch each of the pearls, check their colors, hues, and flaws, and truly get a sense of their unique qualities.
After you've chosen your pearls, there are several options for what to do next. The seller can drill a hole in the pearl and string it for you for a simple jewel, or you can take the pearls home and bring them to your local jeweler to create a custom piece of jewelry. This is often a more affordable option than purchasing a pre-made piece in Tahiti or Bora Bora.
Insider tip : If you happen to come across a pearl that has a flaw, don't be discouraged! Instead, consider asking the seller to drill the pearl at the location of the flaw so that it won't be visible once the pearl is incorporated into your jewelry.
Overall, buying loose pearls in Tahiti can be a fun and rewarding experience. Not only does it allow you to find the perfect pearl for your needs, but it also gives you the rare opportunity to create a truly unique piece of jewelry that you'll treasure for years to come.
Look for keshis
If your budget does not allow you to buy pearls, consider looking for keshis! These tiny baroque pearls are known for their irregular shapes and organic origins, making them truly one-of-a-kind. With an infinite variety of shapes and colors available, you are sure to find a keshi that perfectly suits your style and budget.
Keshi pearls are pearls without a nucleus, meaning they have no core and are composed entirely of nacre. This gives them a lustrous, almost translucent quality that is simply breathtaking. These pearls can be found naturally or created through human intervention. In the wild, keshi pearls are formed accidentally when an oyster rejects the nucleus after grafting. This organic origin lends itself to the unique shapes and colors that make keshis so special.
In my opinion, keshi pearls are much more delicate, modern and romantic than bigger pearls. They have an ethereal quality that adds a touch of elegance to any outfit. Plus, their affordability means that you can invest in multiple pieces without breaking the bank.
If you are in the market for wonderful keshi jewelry, Maison Valencourt offers stunning, delicate designs.
💸 Want more savings tips for your stay?
Get my free eBook including my insider tips to save money during your stay in Bora Bora and many more informations!
Must-know info for once you bought your Tahiti pearl
Before you get all excited about buying your Tahitian pearls, be sure to check out all these legal conditions:
You can't take more than 10 loose (unset) Tahitian pearls out of the country without a license (the Xray machines check for it).

You must keep your purchase receipt and the tax exemption form from your salesperson (you'll need to show these at the airport so keep them handy).

If you don't have the documents above, you'll be charged an extra export tax
And voilà!

Hopefully, you have everything you need to buy your Tahitian pearls. Be sure to explore, compare, see what fits your style and budget, and make a conscious informed purchase you'll love. If you still have any questions, feel free to post in our active FB group Off to Bora Bora. We'll get back to you there!
*Some pictures of this post are courtesy of Les Merveilles du Pacifique & Pearls of Joy. Maruru'u!