The Four Seasons Resort Bora Bora is located in the heart of the Pacific Ocean and has been welcoming guests since September 2008. You've undoubtedly already heard that the Four Seasons Resort Bora Bora is considered to be one of the very finest in the whole globe… This explains why it charges some of the highest rates in Bora Bora for accommodation.
So, what makes this resort so unique? Let's take a look inside and see if it's right for you. I'll go over everything from lodging to food to activities to spa treatments and, of course, prices.
Accommodations at the Four Seasons Bora Bora
Overall feeling & decoration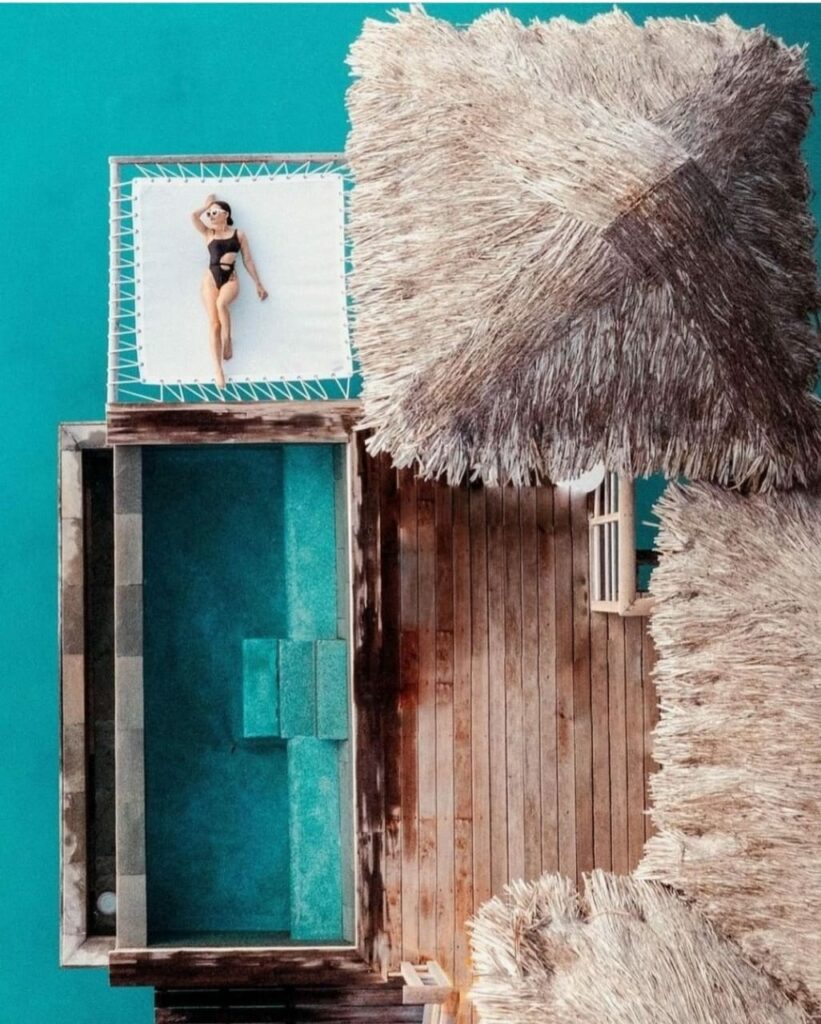 All of the bungalows & villas have a relaxing, airy feel, with traditional teak wood furniture, high ceilings, and thatched roofs made from pandanus leaves. The design of the bungalows is based on the architecture of the area. Polynesia's special touches include beautiful works of art, private plunge pool, and sliding doors by deep bathtubs that open to views of the lagoon in the fresh air.
Types of overwater bungalows at the Four Seasons Bora Bora
When checking at the Four Seasons websites, you'll notice that there are eight different classifications for overwater bungalows, which can make your choice a little difficult and confusing. I'll do my best to make that easier for you and give you our tips to pick the best ones.
One bedroom overwater bungalow suite
Basically, the one-bedroom overwater bungalow suite is the most common type of accommodation in the resort and, even if they come in 6 categories, they all look pretty much the same in terms of layout and decoration.
You'll enter into a huge living room with a sofa (which converts into an additional bed) and a coffee table. A minibar is located on the opposite wall, where you may prepare some coffee and find some snacks.
To get to the bedroom, you have to walk through the bathroom, which features her and his sinks, a close shower and toilets, and my favorite, a large bathtub overlooking the lagoon. I ADORE the bathroom, which opens onto the lagoon for a relaxing bath with a view. Add some flowers for the ultimate Polynesian experience.

The bedroom itself is somewhat tiny in comparison to other resorts such as the St Regis Bora Bora, but you will enjoy a super comfy king-size bed, a huge wardrobe, and the nicest views from your bed.
On the deck, you'll find a table for breakfast and lunch with a view, as well as lounge chairs. Some bungalows feature a little plunge pool, which is ideal for relaxing.
At the end of the pontoon you will also find some larger one-bedroom bungalows. These bungalows include a living area that is twice as spacious as the others. There are also the only overwater bungalows of the resort who has a little overwater hammock to unwind.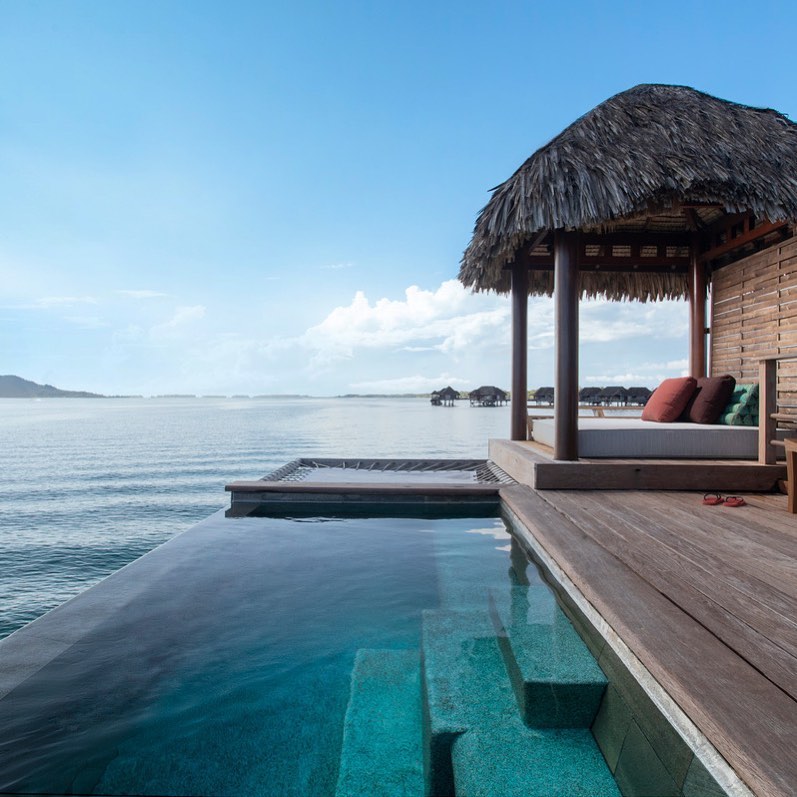 The one-bedroom overwater bungalow suite is available in six different categories, and the rates vary based on whether or not the bungalow has a plunge pool on the deck as well as the views that can be seen from the bungalow. The bungalows that have a frontal and unobstructed view of the mountain are always going to be more costly.
Insider Tips
My personal recommendation is to request a bungalow on the west pontoon branch when booking a bungalow at the Four Seasons Bora Bora.
This puts you closer to the resort's common areas, such as restaurants. if you are staying in one of the last bungalows on the east pontoon branch it will take you a good 15 minutes to walk to the restaurant. I mean, the walk is lovely, but it's good to know.
Four Seasons Bora Bora Resort Map
And if you want your bungalow to face the sunset, make sure it faces west. If your bungalow faces east, you'll receive direct morning sun but no sunset views.
Two bedrooms overwater bungalows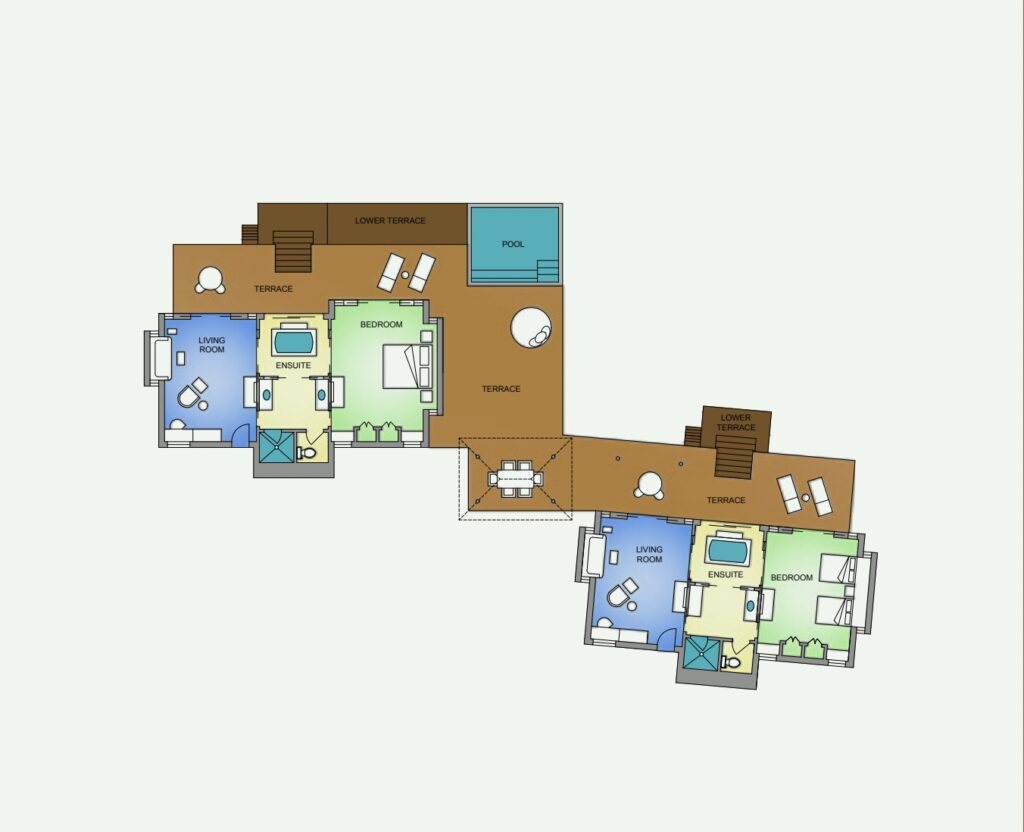 Good to know
If you are traveling with family the four Seasons also has two bedrooms overwater bungalows. It's actually two one-bedroom bungalows connecting together with a larger deck. Look for the "Two-Bedroom Poerava Overwater bungalow suite with plunge pool" or "Two-Bedroom Herenui Overwater bungalow suite with plunge pool"
Beachfront villa estates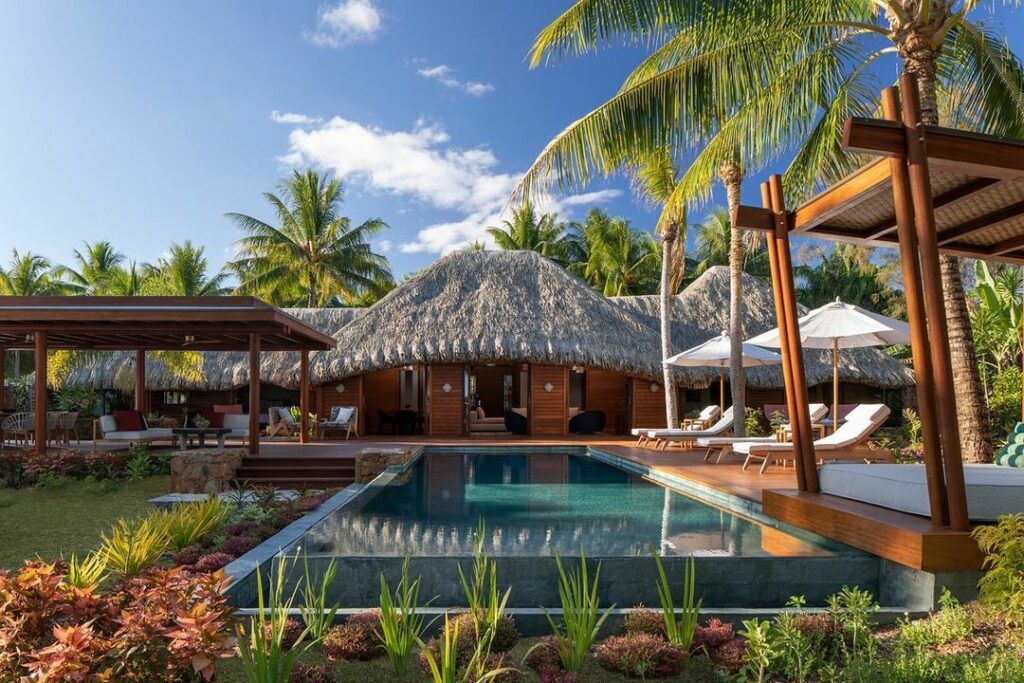 Nestled in a tropical garden the Four Seasons Bora Bora also provides 7 beach villas ranging from one to three bedrooms for the larger one. They have all been recently remodeled and offer the best seclusion and views on the mountain.

Each has a huge private pool, a large indoor and outdoor living area, and outdoor showers. To sum it up it's a little tropical paradise.
While more costly than overwater bungalows, beach villas at the Four Seasons Bora Bora include unique services such as customized pre-arrival planning, private airport shuttle, daily breakfast, a dedicated villa host, and private beach setup (with the watercraft of your choices such as kayak or paddle board).

You can even have a private chef cook for you in your villa, as well as a private movie night with a bonfire or a private Polynesian show right on your beach.
Accommodations at the Four Seasons Bora Bora : Price per category
The following are the minimum (low season) costs per night for each room category at the Four Seasons Bora Bora:
One bedroom overwater bungalow with beach view: from $1600 and up
One bedroom overwater bungalow with mountain view: from $1800 and up
One bedroom overwater bungalow suite with plunge pool: from $2500 and up
Beach villas: From $4500 (one bedroom) to $12500 (3 bedrooms)
Restaurants & food experiences at the Four Seasons Bora Bora
You'll never go hungry at the Four Seasons Resort Bora, The resort has 4 restaurants available to guests, ranging from casual to fine dining. The restaurants are:
Arii Moana (Mediterranean cuisine)
Classic dishes from the Mediterranean are served in a casually elegant setting at Arii Moana (Open for dinner only). Enjoy clean, crisp presentations of your favorite dishes that pay homage to this chic and lively waterside setting. Executive Chef Eric Desbordes brings together the best local and imported ingredients with his creative vision. The beverage menu offers a thoughtful selection of grand crus, well-known Mediterranean labels, and refreshing cocktails.
On Monday & Wednesday, Arii Moana has Italian nights to try the tastes of Italy. Enjoy a delicious à la carte trip through antipasti, secondi piatti, and dolce, with Italian music playing in the background.
Price: Expect to pay a minimum of $100 for a 3 courses dinner without drinks.
Rated 4.5 ⭐️ on TripAdvisor
Click here to check Arii Moana's menu.
Vaimiti (Eclectic Asian Cuisine)
Begin your evening with some of the most enchanting views of the sunset that Bora Bora has to offer while sipping delicious cocktails in a breathtaking overwater setting. The food is yummy for a few bites before dinner. Don't miss the Spicy Salmon with crispy sushi rice and its honey soy sauce, my favorite ;)
Price: Expect to pay a minimum of $25+ for a cocktail
Rated 4.5 ⭐️ on TripAdvisor
Click here to check Vaimeti's menu
Fare Hoa Beach Bar & Grill
A laid-back restaurant and bar near the lagoon where guests may eat and drink throughout the day while relaxing with their toes in the sand. Once a week don't miss the Fish House Weekly Dinner.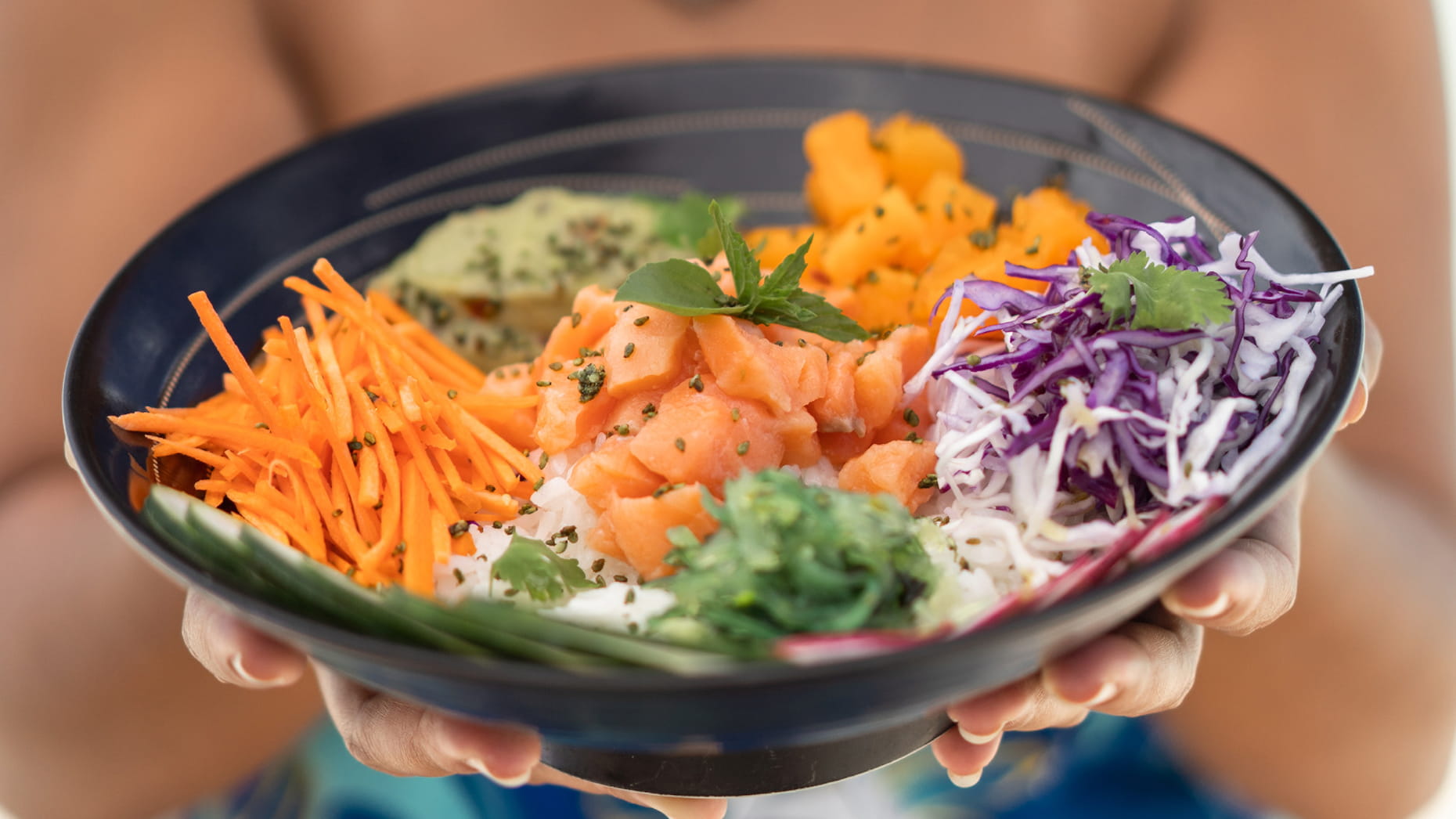 Price: Around $30 per dish.
Rated 4.5 ⭐️ on TripAdvisor
Click here to check Fare Hoa's menu
Tere nui (breakfast restaurant)
This is the restaurant that serves breakfast in the open air to begin each day with breathtaking views.
Price: Around $60 per person.
Rated 4 ⭐️ on TripAdvisor
Click here to check the Tere Nui's menu
Room service
Last but not least room service is also an excellent alternative for lunch or dinner with the view on the intimacy of your bungalow.
Price: $30 per dish on average.
Click here to check the room service menu
Exclusive culinary experiences
In addition to the restaurants, the Four Seasons is home to several of one-of-a-kind dining experiences, including the following:
Romantic dinner on a private islet
Your stay at the Four Seasons is also ideal for planning a truly romantic evening. There are several options, including your bungalow deck, the beach, or my personal favorite, the sunset motu. Imagine the two of you alone, facing the sunset on your little islet… You arrive by canoe, and the scene is ideal for a proposal. We did countless wedding proposals on the spur of the moment while working as photographers, and guess what – they all said yes ;)
For a couple, a 3-course romantic dinner on the motu with champagne starts at 950$.
Canoe breakfast
The ultimate experience you've seen all over Instagram : Breakfast will be delivered to your overwater bungalow's private deck in a traditional Polynesian canoe as part of a one-of-a-kind and spectacular room service experience available only in Bora Bora.
Price: 30 000 XPF (around $250) per couple.
Polynesian nights
Enjoy a family-style dinner as Polynesian entertainers sing, dance, and play music. End the evening with a stunning fire dance performance.
Start at $110 per person.
Villa experiences
And if you are staying in one of a beach villa you'll be able to indulge one of the following experiences :

Private Tahitian night including a Tahitian menu + a private Polynesian dances & fire show.
From $2000 for 4 people.

Private movie nights: Your beach villa is converted into a theater under the stars with a movie screen and outdoor lounge set-up and, of course, Popcorn and homemade cookies.
From $500 for 4 people.

Smore's on the beach : Gather around your beach firepit and enjoy the breathtaking scenery while cooking marshmallows for S'mores. Nostalgia with unparalleled views and stars to round out the evening.
From $600 for 4 people
The Spa
The Four Seasons Bora Bora Spa is without a doubt one of the greatest in French Polynesia! It is surrounded by lovely gardens and overlooks the interior lagoons. There is a room for two people in an overwater cottage with glass flooring where a couple may enjoy a massage and view sea life.
Open every day from 10AM to 6PM Te Mahana Spa is located on the lagoon's edge, surrounded by tropical trees and pristine waters, and illuminated by the warm Polynesian sun. The Spa embraces the Tahitian essence with a unique combination of simplicity and elegance that makes Bora Bora what it is, with stunning views of the lagoon and ocean. Treatments are based on traditional methods and are intended to heal, rejuvenate, and revitalize.
Massages, facial therapy, rituals (Ancient customs, therapeutic techniques, and Western ways of doing things are all connected together to take care of the body and bring it back into balance), and men's treatments are all available at the spa.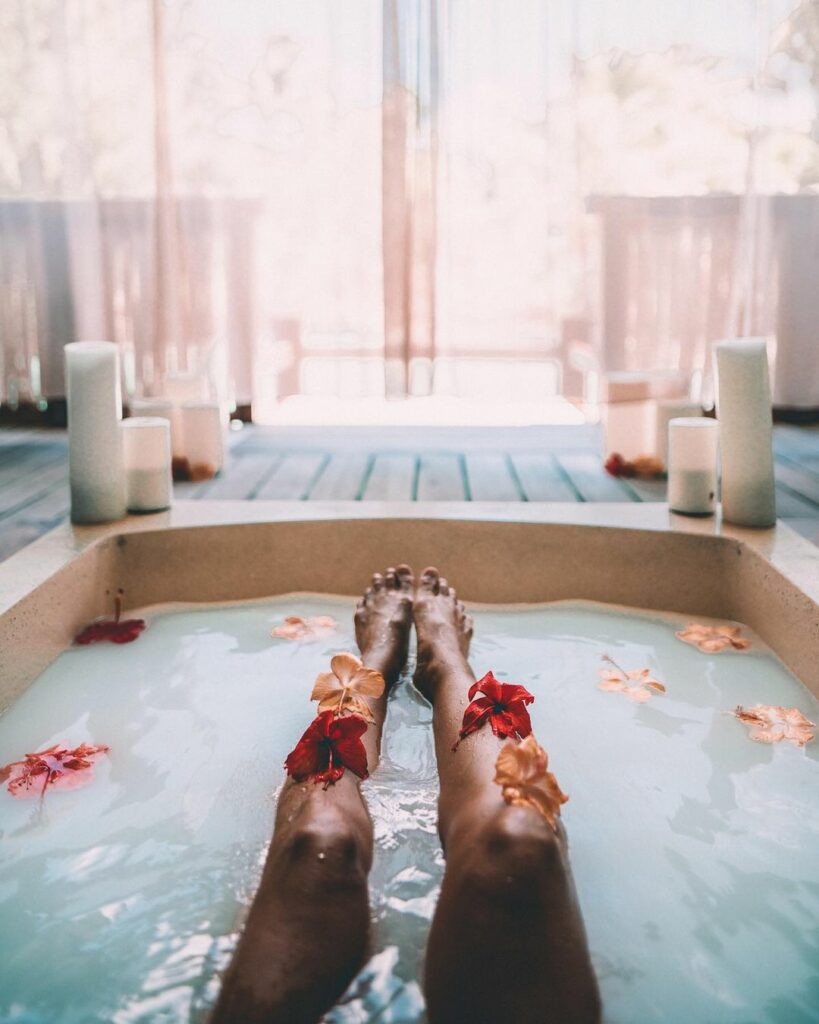 However, if you want to pamper yourself, I highly recommend booking the OVERWATER SPA SUITE, which is unique in Bora Bora! Relax in the best couple's suite, have a massage while watching the fishes below via glass panels, and soak in an outdoor tub with a view of Mount Otemanu.

More information about treatments and costs may be found on this page: https://www.fourseasons.com/borabora/spa/.
Insider Tips
The Four Seasons Spa has two beautiful and secluded plunge pools. The first one overlooks the tropical garden, inner lagoon, and Otemanu… You've definitely seen photos of it on Instagram… it's picture-perfect! The second one faces the sea. It's usually windy, and if you're lucky, you could even spot a whale along the reef! And the greatest of all? Both pools are free to use; no need to reserve a treatment or massage!
Four Seasons Bora Bora on-site activities
When you're staying at the Four Seasons Resort Bora Bora, you won't have to worry about being bored. The Resort provides a variety of complimentary activities for visitors, including snorkeling in the lagoon and attending one of the numerous cultural events and demonstrations conducted on-site. Snorkeling gear, kayaks, stand-up paddle boards, and Polynesian canoes are all free for guests to use. Two inland lagoons offer safe places to swim and snorkel. There are also lots of things to do that don't involve water, like tennis courts and a well-equipped gym.
Snorkeling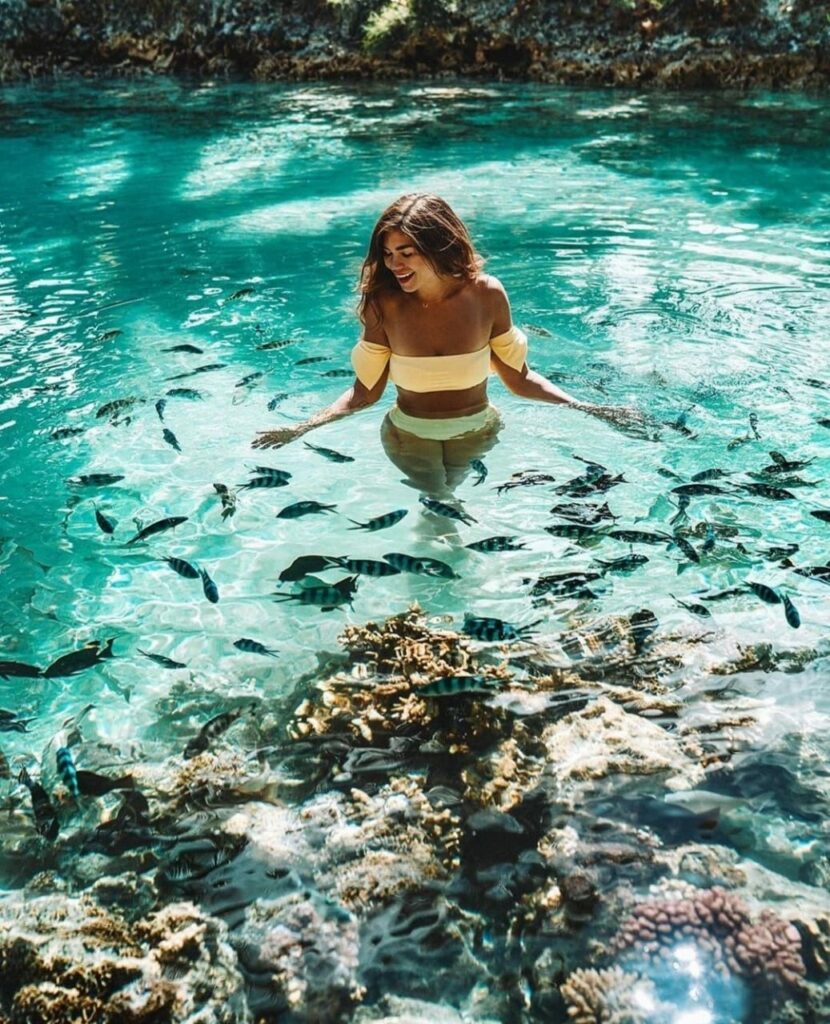 Snorkeling is one of the most enjoyable activities available. It is possible to borrow snorkeling equipment for free, and the inner lagoon is pristine and home to more than one hundred distinct species of marine life as well as corals in good health.

You may wander about for hours without even noticing the passage of time, and if you want to find out more about the lagoon, you can schedule a private tour with a marine biologist from the resort, which is called WiseOceans, and they will provide you with all of the information you want.
Exploring the lagoon
You may explore the lagoon using a variety of watercraft, such as kayaks, outrigger canoes, and paddleboards, which are all available and free for your use.
Shows & culture
The resort provides guests with a range of cultural programming that runs throughout the week. There are daily cultural acts that may be experienced, such as traditional dances, floral crow and pareo making ateliers, and many other activities. There is always something entertaining prepared for the guests to look forward to each day. In addition, once a week there is a Polynesian night that includes a dance show as well as a Polynesian feast, and this event is not to be missed.
Sport
The resort features a good tennis court where you can schedule a private lesson – but be prepared to play in the heat – and a well-equipped fitness center right next to the spa with spectacular views of the ocean and reef.
Concierge service
And when you've gotten your fill of everything that the resort has to offer, a professional concierge team is always standing by to help you arrange off-resort excursions or make restaurant reservations. They are always there to assist you.
⚠️ That being said, I always recommend making direct reservations for any activities that you want to participate in during your time in Bora Bora. Concierge desks in Bora Bora always charge an additional commission of up to 25% on top of the pricing offered by vendors, which means that you will end up paying significantly more money for the same activity.
Four Seasons Bora Bora : Prices
What is the entire cost of a week's vacation at the Four Seasons Bora Bora?
A week at the Four Seasons Resort Bora Bora would cost roughly $12,000 without airfare, with the price obviously varying depending on how many activities you perform, how much you drink and eat at the resort, and so on. Flights to Bora Bora from California cost roughly $1200-$1500 round way, and may be cheaper if you're flexible on when you go, and if you are able to use credit card points for this, which I highly suggest. So a week-long vacation for two individuals will cost around $15,000 and above with flights.
How much do food and drinks cost at the Four Seasons Bora Bora?
Because everything is imported (and heavily taxed for alcohol), food and drinks in Bora Bora are prohibitively expensive, regardless of resort. In fact, many members of our Facebook group would say that Bora Bora is one of the most expensive places they've ever visited in terms of food and drink.
If you eat at the Four Seasons Bora Bora's restaurants, plan to spend at least $100 per person without drinks for a meal. Room service (which is excellent) costs around $75 per person without alcohol. Room service charges $40 for a burger. Cocktails on the beach or by the pool are $25 each, and a glass of wine is $16-$20. You'll find all the menus with rates on the section "Restaurant" above.
The arrival: What does it cost for the boat transfer to the Four Seasons Bora Bora from the airport? 
For transfers, the Four Seasons resort bora has the most magnificent french Adreal boat. It is, however, somewhat expensive (about $300 round trip per person). The other option for getting to your resort, wherever you stay, is to skip the resort airport service and instead book a private transfer. This is substantially less expensive than the resort transfer and an easy way to save money on your Bora Bora vacation. You can book at the best price with the links below :
Frequently asked questions about the Four Seasons Bora Bora
Where is the Four Seasons Bora Bora located?
The Four Seasons Bora Bora is located on Motu Tehuto, which is a private island home to just the resort. The island itself is only accessible by boat (15 minutes from the Bora Bora airport), so guests can enjoy the island's pristine waters and spectacular views without worrying about traffic or crowds.
Who is the Four Seasons Bora Bora's clientele?
The 4 Seasons Bora Bora is largely populated by American couples. Young honeymooners and older couples celebrating anniversaries & birthdays. During the summer and the festive season, you'll also encounter a lot of families.
Is the Four Seasons Bora Bora a good choice for a vacation with children?
Families are welcome, despite the fact that this is primarily a romantic getaway for couples. A kids club is available with a large range of activities, restaurants have kid's menus, and babysitting can be arranged for a fee.
📌 Pintastic? Add it to your Pinterest board ⬇️