Have you seen the famous movie "Couples Retreat"? If you answered yes, then you have already had a taste of St. Regis Bora Bora Resort! Even if not all of the scenes are set at the resort, it gives you a good sense of the resort's opulent atmosphere.
Its massive bungalows, breathtaking interior lagoon, and the army of butlers ready to respond to your every wish make it one of Bora Bora's most prestigious resorts.
Let's take a look inside, shall we? :)
Accommodations at the St Regis Bora Bora Resort
The largest accommodations in Bora Bora
If you are stuck in a tiny NYC apartment all year long and all about spaaace during your holidays, then this might be the right resort for you.
Yes, the St Regis Bora Bora is the resort in Bora Bora offering the largest accommodations.
The smallest bungalows there are 1,550 square feet. In comparison, the first bungalows at the Four Seasons are 1,120 square feet. The royal estate is 13,000 square feet while the largest villa at the Four Seasons is 5,380 square feet.
Overwater bungalows at the St Regis Bora Bora resort
Overwater Superior, Overwater Deluxe, and Overwater Deluxe Otemanu
Fundamentally, the basic (not really sure that I can call them basic but why not) bungalows (also called overwater villa) at the St Regis Bora Bora come in 3 different categories: Overwater Superior, Overwater Deluxe, and Overwater Deluxe Otemanu.
The size, layout, and decoration of the bungalow are exactly the same. Only the view is different. Should I give you a room tour?
You enter the bungalow through a long corridor leading to the large living room. You'll find there a nice glass coffee table to marvel at the lagoon, a convertible sofa, a desk, and the minibar.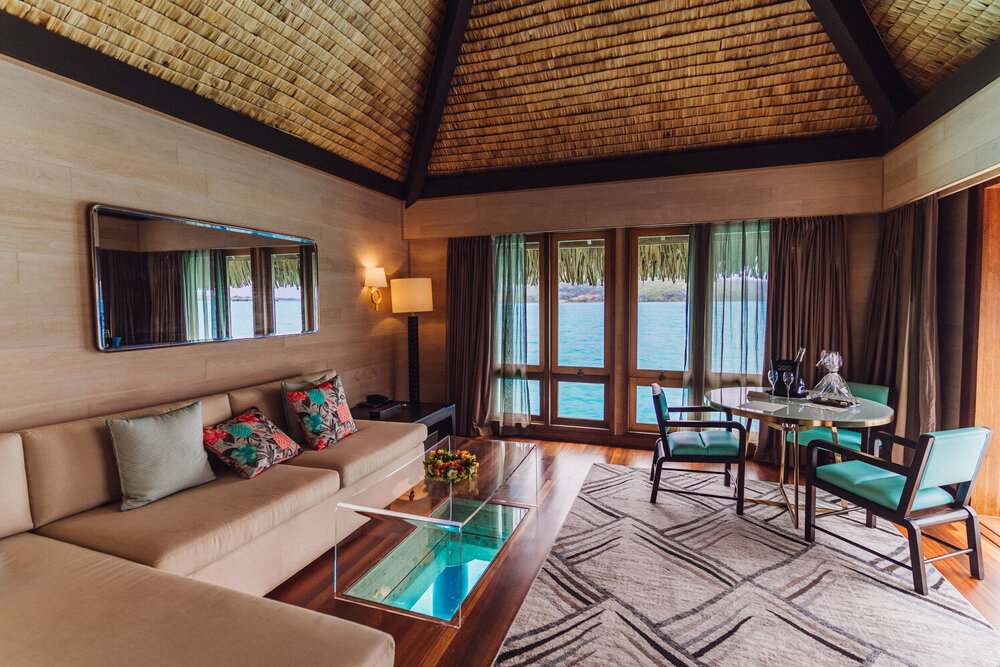 The room, which is LARGE, can also be reached from the corridor. You will find a comfortable king-size bed waiting for you in the room, as well as stunning views of the lagoon from it.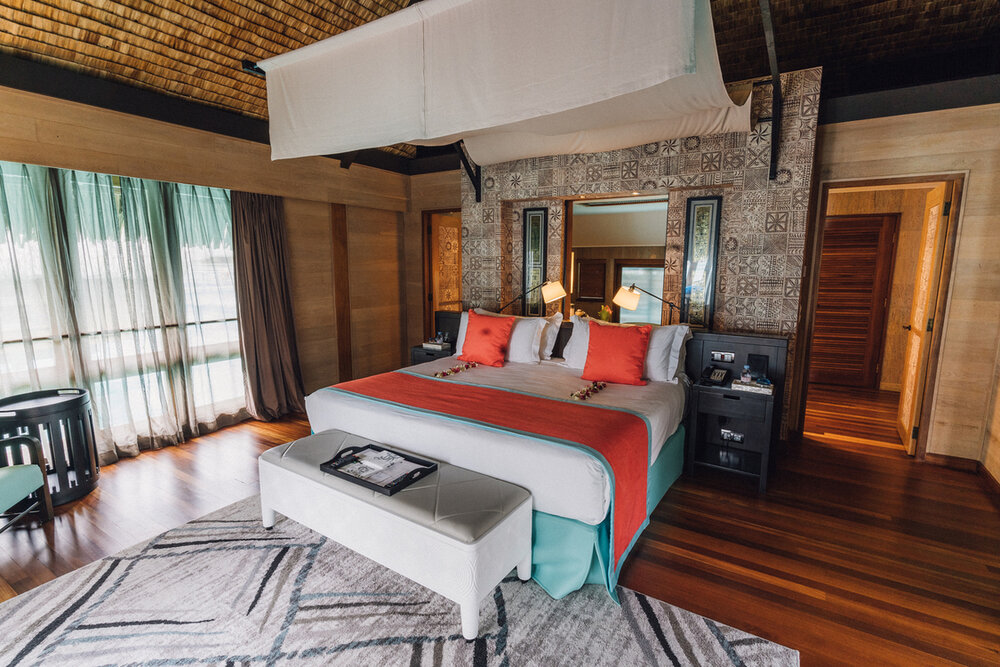 And if you thought the bedroom was big, wait till you saw the bathroom. It has his and her sinks, a bathtub, and a shower. The dressing room and restroom are located on each side. I especially enjoy how you can open the bathroom wall to get a view of the lagoon when brushing your teeth or taking a shower. This is a nice touch. The only drawback is that the shower does not seal completely, so you end up getting the entire floor wet while showering – but that's a minor point.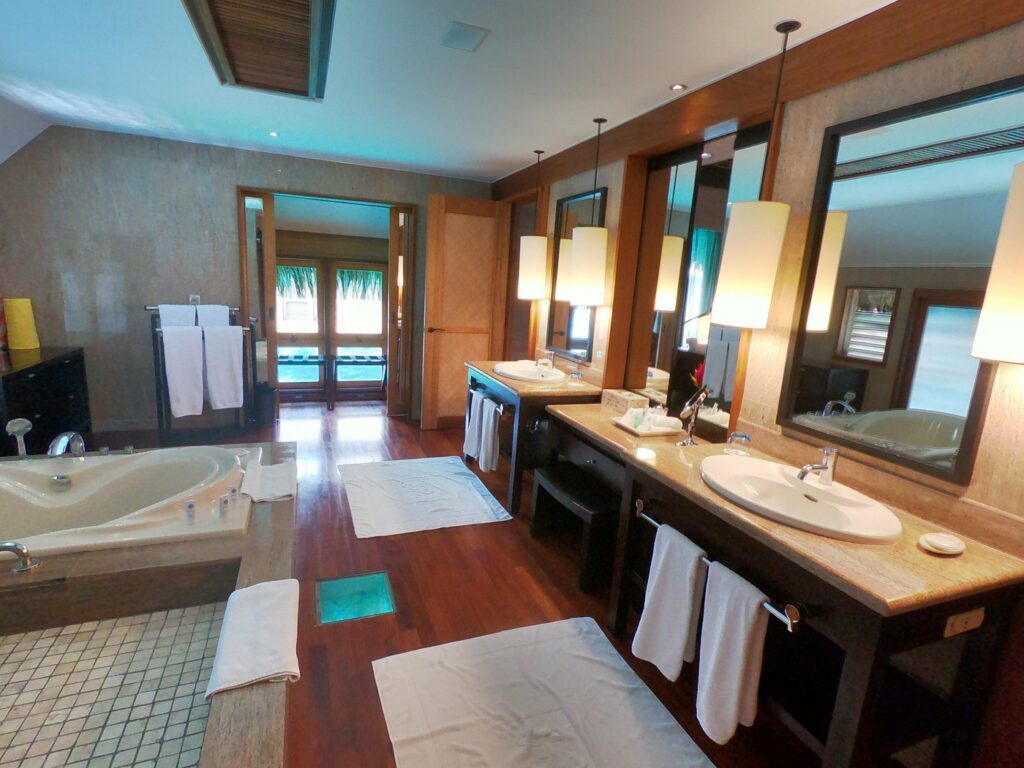 A covered table for breakfast or in-room dining, two sunchairs, and a lower deck with a freshwater shower are available on the terrace, which is accessible from both the living area and the bedroom.
While it is difficult to complain about an overwater villa like this, I feel like the interior of the bungalow is lacking light due to the long corridor and dark materials used. If you prefer a light-filled environment, this may not be the best option for you.
Overwater Premier Otemanu
The Overwater Premier Otemanu is my absolute favorite St. Regis overwater villa category.
You enter directly into the living room (no corridor this time), which has a large glass door. As a result, there is significantly more light than in the other bungalows, and the space feels much more spacious, bright and airy.
The bedroom and bathroom are basically the same, but they were renovated recently, so I tend to like the decoration a bit more.
On the outside deck (which is larger than the previous category), you'll find a wonderful view on the mountain and a whirlpool. Yes, it's pretty small, but I tend to like that way better than big pools… because it's always warm. Unlike larger pools, you are sure to use it at some point during your stay, even at night.
In bungalows/villas, some of the guests end up never using their pools in the high season because the water can be chilly… Between June & September, when it's pretty windy, the lagoon will be warmer than pools most of the time.
One last good point for this category: You are very close to the resort's common areas. The resort only has 8 Overwater Premier Otemanu so better book it quick!
Overwater Royal Otemanu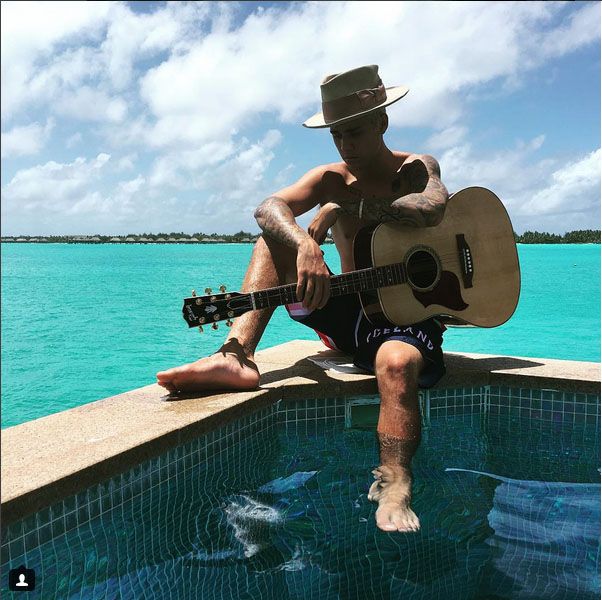 You may already have seen this category without knowing it… in the press. Justin Bieber frequents the St Regis Bora Bora and frequently posts pictures of his vacation.
They come in 1 or 2 bedrooms, get the best views of Otemanu, and have huge pools… that are rarely warm. That is the only downside of them to me.
Villas (Beachside and Reefside)
Of course, you'll also find villas at St Regis Bora Bora Resort. On the beach and on the reef (the St Regis Bora Bora is the only resort that offers accommodation on the reef).
Reef villas have the best sunrise (and moon rise) views of the reef and the ocean, creating a unique atmosphere. This area is also much more breezy than the rest of the resort, making it a good option if you can't stand the heat too well.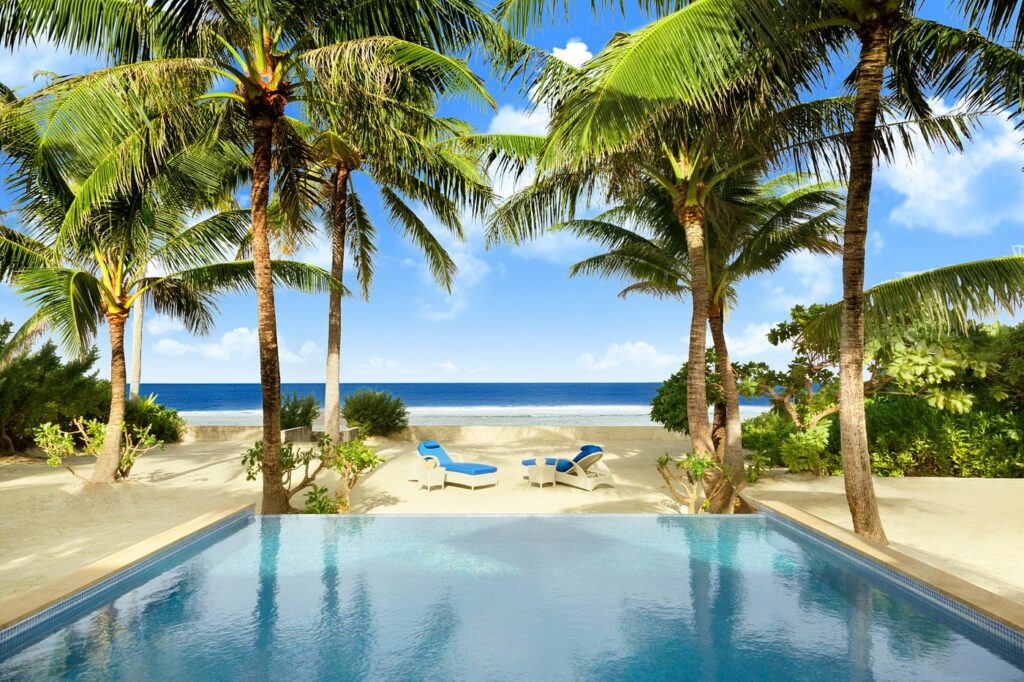 The villa's main selling point is their privacy. Few people venture out onto the reef side.
Beach villas also provide a lot of privacy. While the beach isn't completely private (as it is at the Four Seasons), other guests rarely visit this area. As a result, you don't have to be concerned about people tanning in front of your villa (like it happens at Le Bora Bora or Le Moana).
However, if you are looking for a beach villa with pool, I would recommend the Four Seasons instead. Recently renovated, the decoration is superior, and you have better views and garden space.
Royal Estate VILLA
With its 13,000 square feet the Royal Estate is by far the largest resort accommodation unit in Bora Bora, so if you're traveling with friends and family, this is your place to stay!
My recommendation for booking the best accommodation at the St Regis Bora Bora Resort (with #)
Here is a map of the resort with # for reference :
If you want the best views of the mountain → ROW (202 – 122 – 211 – 214 – 216) / POW (103 – 104) / ODOW (215 through 229). If you are staying in a beach villa with pool I would request the last villa on the beach side (#406). This is the one that gets the better view of the mountain (once on the beach, not from your room tho).


If you want the best views on the sunset → Any #200's bungalows + all beach villas we'll have a nice frontal sunset view.


If you want the best views on the sunrise → Reef side villa. They are the only accommodation category that faces the sunrise. Then the first bungalows that receive the first sun rays are the 300's (any).


If you want the best snorkeling → If want the chance to snorkel with the school of eagle rays, then it's best to book a bungalow close to the spot. I would suggest #209, #210, #211, #114 & #115


If you want to be close to the common areas → If you don't want to walk for too long (or use a bike, or call for a pick up) then try to stay in bungalows 101 through 105 or 324 through 331.
Bungalow/villa # to avoid at the St Regis Bora Bora
If possible, I would avoid all the first part of the 300's branch (316 through 331). They are facing the lagoon and main beach and a lot of jet skis go back and forth during the day.
Reef side villa: Avoid booking villas #505 & #506. They are sitting just next to the kids club so it can get noisy some days.
Accommodations at the St Regis Bora Bora Resort: Price per category
These are the minimum prices you can expect to pay per night and per category (low season prices).
Overwater Superior (Lagoon view) : $2100+
Overwater Deluxe (Island View) : $2200+
Overwater Deluxe Otemanu (Mountain view) : $2500+
Overwater Premier Otemanu: $3300+
Overwater Royal Otemanu 1 Bedroom : $4500+
Overwater Royal Otemanu 2 Bedrooms : $5500+
Beach Villa with pool: $2000+
Reef side villa : $1400+
Royal Estate Villa: $16000+
St Regis Bora Bora Resort: The Butler service
Besides having the largest bungalows what makes the St Regis Bora Bora stand out is the exclusive Butler service which is unique in Bora Bora… for now. The Conrad is also trying to implement a butler service but it's safe to say that… they are not there yet.
Not interested in packing/unpacking? Your butler will do it for you, so you don't have to. Want to avoid ironing your shirt? There's no need to. Again, it will be done for you by your butler. Basically, if you want anything at any time, you call your butler and he/she will take care of it.
Frequently asked questions about the butler service :
What can your butler help with?
When you arrive, your butler will personally greet you and take you on a tour of the resort. They can assist with unpacking if necessary. They will bring you complimentary tea or coffee in the morning and handle any urgent requests.
They essentially serve as your personal point of contact with the resort, handling any complaints and informing the appropriate supervisors, and following up on the issue(s).
They will set up rooms and bring special touches and amenities along your stay. They can drive you around the resort (keep in mind that it is really spread out). Finally, they can assist with restaurant reservations and spa treatments.
Should I tip my butler? If so when?
Tipping is never expected in French Polynesia but is always greatly appreciated. This is the case in restaurants as well. Rather than carrying small bills with you and tipping after each service, it is more convenient to tip your butler only once at the end of your stay if they went above and beyond what was expected. You can always expect to receive excellent service here. Consequently, tipping early will not result in improved service.
Restaurants & food experiences at the St Regis Bora Bora resort
With cuisine from all over the world, the St. Regis Bora Bora Resort is the best resort for foodies. The resort has four excellent restaurants and a cocktail bar on the beach where you can sample a variety of cuisines ranging from sophisticated French Polynesian fare to classic Italian fare. All high-end menu items are prepared with fresh, island-grown ingredients, reflecting the abundance of Bora Bora's natural surroundings. You can also surprise your loved one with a candlelight dinner. It's best to make reservations ahead of time to ensure you get a table.
Lagoon Restaurant by Jean-Georges (Asian Fusion)
The St Regis Bora Bora Resort signature restaurant is The Lagoon by Jean-Georges. Jean-Georges Vongerichten is renowned for providing the best cuisine in Bora Bora, with a unique blend of French and Asian cuisines. His inventions are always a delight, mixing unexpected ingredients or revisiting traditional local recipes like "Thon à la Tahitienne" to produce one-of-a-kind flavor sensations.
Price: Expect to pay a minimum of $100 for a 3 courses dinner without drinks.
Rated 4.5 ⭐️ on TripAdvisor
Click here to check Lagoon Restaurant by Jean Georges menu
Bam Boo restaurant (Asian)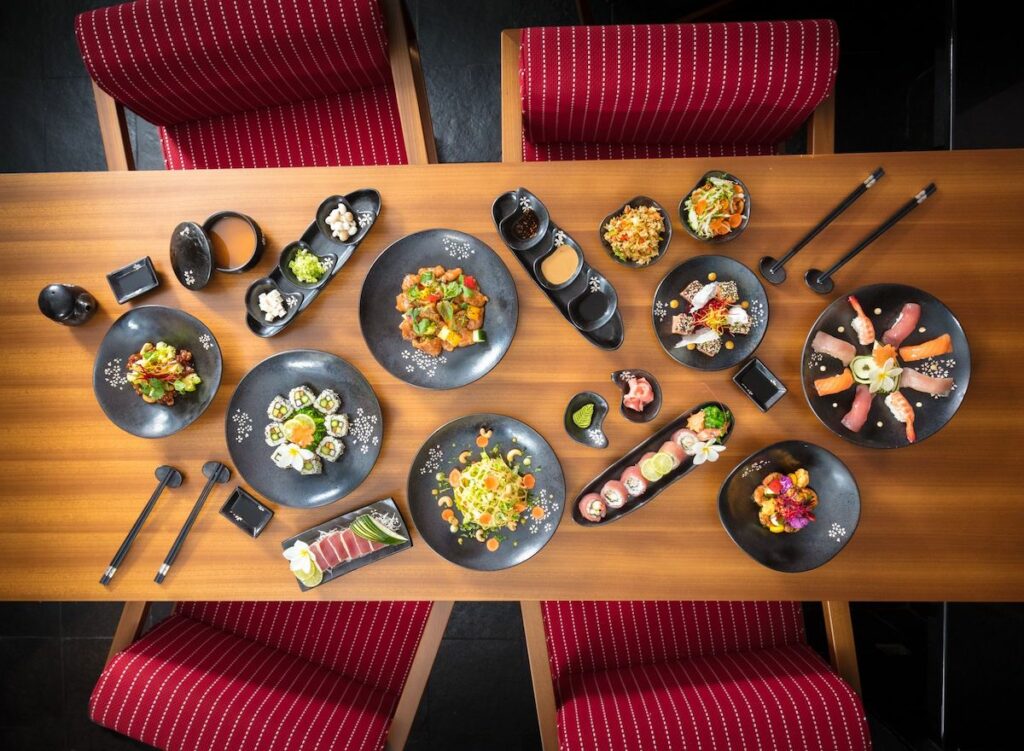 Bam Boo is revitalizing the resort's Asian dining experience by adding wok and teppanyaki to the sushi menu.
The daily menu includes traditional Chinese wok meals such as Kung Pao chicken and Szechuan-style shrimp, as well as local lagoon fish, served Chinese-style. The sushi chef skillfully sublimates the freshest fish on the Japanese menu. Volcano and Red Dragon Roll are two of our most popular sushi meals. Customers can order hot foods from a teppanyaki plate visible from the counter, expanding the menu even more.
Price: Expect to pay a minimum of $30 for a plate of maki or sushis & $40 for a wok dish
Rated 4.5 ⭐️ on TripAdvisor
Click here to check Bamboo's restaurant menu
Far Niente restaurant (Italian)
Far Niente Ristorante is a fantastic choice for dining in a gorgeous setting while enjoying a fine bottle of Italy's finest wines if you wish to appreciate Italian food. The exclusive specialty, a carpaccio crafted with thin strips of Black Angus steak, covered with a 24-month aged Parmesan cheese coulis and garnished with fresh green asparagus and grated Cidro lemon peel, will delight you. Far Niente also suggests Italian "orecchiette" with braised veal ragout, fresh basil, and saffron sauce, or thazar burrida, a slow-cooked fish in a shellfish sauce served with a Sicilian "caponata."
Price : Expect to pay a minimum of $35 for a plate of pasta and $30 for a pizza
Rated 4.5 ⭐️ on TripAdvisor
Click here to check Far Niente's menu
​​Aparima bar (International)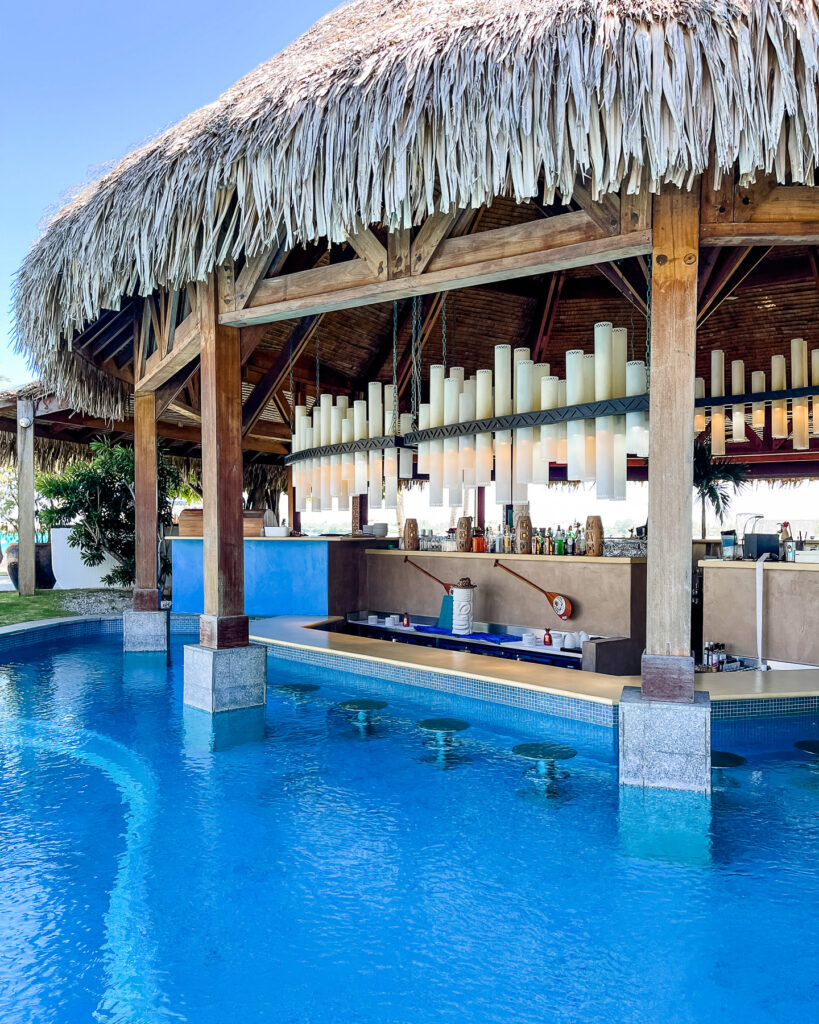 Aparima Bar is the casual restaurant at the St. Regis Bora Bora Resort, located between the main beach and the main pool. It serves light dishes or snacks, creative cocktails, fruit drinks, and a variety of specialties, and is ideal for concluding a pleasant day. You may even swim to the bar and order an ice-cold beverage without leaving the pool.
Live music is also provided in a calm and joyful setting.
Price : Expect to pay $30 on average for a dish and $20 for a cocktail
Click here to check the menu
Te Pahu restaurant (breakfast)
Te Pahu is a modern interpretation of Polynesian tradition. In an open environment with carved columns facing a white sand beach and dazzling lagoon, an American breakfast buffet is served.
Te Pahu Restaurant serves a standard international buffet breakfast with pancakes, waffles, French toast, omelets, homemade granola, and more in a uniquely Polynesian environment. The open architecture showcases the neighboring gleaming white sand beach and lovely lagoon.
This is also where the Polynesian show is held every Wednesday from 18H30.
Price: Expect to pay around $50 per person for the breakfast buffet
Room service
Last but not least, ordering lunch or supper from room service is another wonderful option that allows you to enjoy the view in the privacy of your bungalow while doing so.
Price: Expect to pay $30 for a burger
Check the room service's menu here
The Spa
Miri Miri Spa by Clarins introduction
During your stay at the St Regis Bora Bora, there is one (free) thing you simply have to do: visit the Miri Miri Spa by Clarins. And yes, even if you don't plan to book a treatment.
The spa at the St Regis Bora Bora is ICONIC and undoubtedly one of the most magnificent and relaxing spas you'll ever visit.  Set on his own islet, with a private beach and breathtaking views on Mt Otemanu, it's a landscape you will never forget (and might be your next screen saver, just sayin')
At the Miri Miri Spa by Clarins guests can indulge in a variety of services and treatments, including massages, facials, manicures, pedicures, and more. You also have the option of scheduling treatments in aromatherapy, reflexology, and lymph drainage.
You will be treated with therapies that will cover your entire body, leaving you feeling relaxed, revitalized, and ready to enjoy your vacation in paradise to the fullest.
If you want to treat yourself and your partner at the same time, then why not book a couples massage outside in the garden? It's the perfect way to spend some quality time together while enjoying the views of the lagoon!
And if yoga is your thing, this is also the place to attend a class in the morning.
The staff is very friendly and attentive. They always make sure you feel comfortable and satisfied with your treatment.
The only downside, in my opinion, is that the spa does not have a mixed shared space with pools, tubs, or saunas. You'll find these equipements through lockers rooms but it is not mixed.
Not your average spa
The spa beach is indeed so ridiculously beautiful that it is also a place they use for romantic events.
Weddings at the St. Regis Spa
During your visit, if you're lucky, you might get to witness a Polynesian wedding, which is frequently held on the spa beach. That being said, if you find yourself at the spa during a ceremony, please be courteous and observe from a distance or from the relaxation room.
Romantic dinners at the spa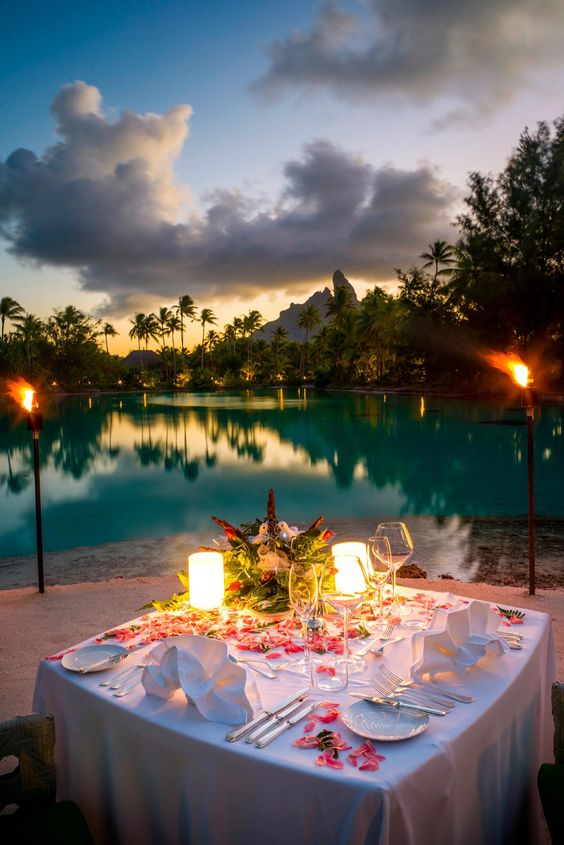 You and your loved one can also enjoy a candlelight dinner on the spa beach, with the warm glow of the sun setting over the ocean lagoon. You'll be treated to a menu of delicious dishes that are expertly prepared and presented by talented chefs. Live musicians or fire dancers can also be booked for this once-in-a-lifetime dinner.
Insider Tip
If you are up for a romantic dinner and are not sure about the location, I would recommend requesting the spa beach. This way, you are guaranteed that no other tables will be around you and you'll have a much more intimate experience. On the main beach, 3 or 4 candlelight dinners can be held on the same evening.
St. Regis Bora Bora resort: on-site activities
You may enjoy a broad variety of enjoyable activities in paradise at the St. Regis Bora Bora Resort. Three lovely beaches, two swimming pools (including one for adults only), and a stunning Lagoonarium with exotic fish and other sea life. It's an excellent spot for aquatic activities. At the main beach, you can also go kayaking or stand-up paddle boarding for free.
Snorkeling
The St. Regis Bora Bora has some of the best snorkeling in Bora Bora, in my opinion. Le Lagoonarium is absolutely stunning and serves as a safe haven for several tropical fish and coral species, including the amazing Napoleon fish (his name is Moana). Many pontoons make it easy to get into the water for some leisurely snorkeling. You can also learn more about marine life by attending a visit by a local expert on marine life at the hotel or by attending the fish feeding with explanations (three times a week).
Insider Tips
Surprisingly, there is a school of eagle rays living on the resort (at the beginning of the first bungalow bridge (the one with the mountain view) that stays fairly stationary and is easily visible. The only handicap is that there is no ladder nearby, so if you are not staying in one of the nearby bungalows (#114 / 115 / 209 / 210), you will have to swim a long distance. When the water is calm, you can see them clearly from the bridge.
At St. Regis Bora Bora, I also saw some turtles, especially from the bungalows facing the island (#114 to #122).
Biking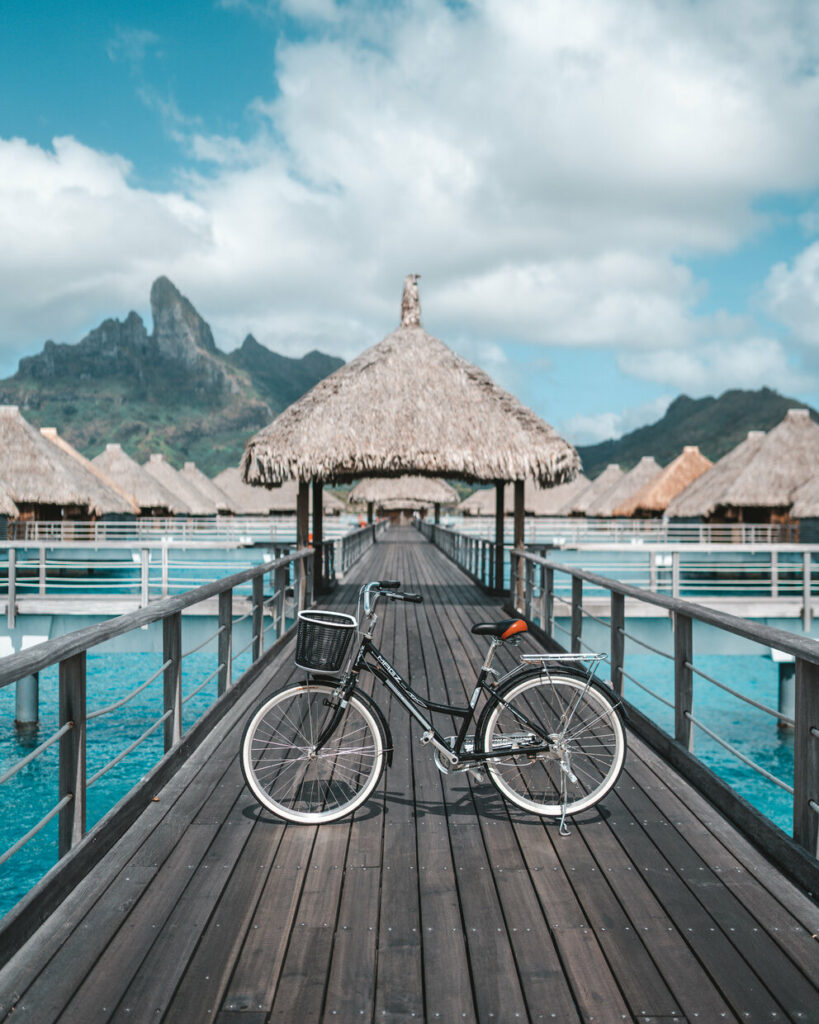 The resort is quite large, but you can get around on bikes! Why not go for a walk around? This is one of my favorite free activities at St Regis. Make sure to take the short path that leads to the helipad and the reef side (unfortunately, not many visitors find out about this spot during their stay, which is a shame because I think it's pretty cool)!
St Regis Bora Bora Resort: Prices
What is the entire cost of a week's vacation at the St. Regis Bora Bora resort?
Without flights, a week at the St. Regis Bora Bora Resort would cost around $12,000; of course, the cost will vary depending on how many activities you participate in, how much you consume at the resort in terms of food and drink, etc. Flights to Bora Bora from California typically cost between $1200 and $1500 round trip, although they might be less expensive if you can be flexible with your travel dates and if you can use credit card points, which I strongly recommend. Therefore, a weeklong trip for two people will cost at least $15,000 with airfare.
How much do food and cost at the St Regis Bora Bora resort?
Without a meal plan, you can expect to pay around $250 per person, per day.
Breakfast buffet : $50
+ Lunch @ the Aparima (1 beer + 1 poke bowl + 1 brownie) = $60
+ 2 cocktails on the beach during the afternoon: $50
+ 1 glass of for sunset @ Lagoon by Jean Georges : $30
+ 3 courses dinner @ Bamboo : $90
= $280
The arrival: What does it cost for the boat transfer to the St Regis Bora Bora Resort from the airport? 
The price for the round-trip boat transfer from/to the airport is 14000 XPF per person (around $120).
For a few more bucks, you can also book a private transfer to the resort : 
Frequently asked questions about the St. Regis Bora Bora
Where is the St Regis Bora Bora Resort located?
The St Regis Bora Bora is located on the motu Ome'e, on the Est side of the island. It takes about 15 minutes to reach the resort by boat.
Who is the St Regis Bora Bora Resort clientele?
Like the other nearby resorts, the majority of the St Regis's guests are American couples celebrating honeymoons, anniversaries, and other life milestones. During the summer and holidays, you'll also see a lot of families.
If you're lucky, you might even run into some celebrities during your stay!
Is the St Regis Bora Bora Resort a good choice for a vacation with children?
Yes, the St Regis Bora Bora resort is suitable for children (everywhere but the oasis pool). There is a nice kids club, babysitting services, and every restaurant has children's menus.
Is the St. Regis Bora Bora Resort all-inclusive?
No, the St Regis Bora Bora Resort is not all-inclusive (neither are the other resorts in Bora Bora), but if you want to save money on food, I highly recommend looking into meal plans.
📌 Pintastic? Add it to your Pinterest board ⬇️