Matira Beach is the only Bora Bora's public beach. It's one of the most popular beaches in the world, and if you've ever seen photos of it, you know why. It's a long stretch of white sand, framed by lush palms and turquoise water.
Matira Beach is so beautiful that it's been featured in movies and is regularly voted the best beach in the world by TripAdvisor. This truly special and pristine place is well worth a visit. No matter if you travel for your honeymoon, with family or even with friends your visit will be surely an unforgettable, magical experience!
Here is your complete guide to Matira Beach in Bora Bora. We'll answer all your questions about where it is, how to get there, what to do as well as where to eat and stay.
Ready to visit? Follow the guide!
Where is Matira Beach?
Matira Beach, the only public beach on the island is located on the southern tip of Bora Bora, also called Matira point by the locals. It is free to access. It stretches from the old Hotel Bora Bora (definitely closed) to Matira point where the Intercontinental Le Moana (and its private beach) are located.
How to get to there?
Here is how to get there depending on where you are staying :
How to get to Matira Beach from Vaitape?
Matira beach is located just 4 miles away from Vaitape center. It will take you about 10 minutes by car to get there. Biking there is also doable, the road is flat all the way, just make sure to bring enough water with you, biking under the sun can be draining. A taxi ride from Vaitape center to Matira point will cost you 2000 XPF. Note: Make sure to book your return in advance so you don't get trapped with no way back once there, you won't find any taxis waiting for customers there.
How to get to Matira beach from a motu resort (Four Seasons, St Régis, IC Thalasso, Conrad)?
To get to Matira beach from a resort located on a motu (islet) you'll need to take a boat shuttle from the resort to the main island first. Price will vary (and can be pricey - be aware) depending on the resort you are staying at. Once on the main island then the best way to move around is to rent a car (they will wait for you at the boat base to hand you the keys) or book a taxi ride (better to book in advance, no taxi will be waiting for customers at the resort boat base except if you are staying at the Conrad. Since the Conrad boat will drop you at Vaitape's main dock you'll find a taxi around.
What makes Matira Beach so special?
It's hard to explain what makes this place so special. Of course, the color of the water is out of this world, the white sand and tropical trees are amazing and it's a great beach for snorkeling but there is something else about Matira Beach that makes me fall in love with it all over again.
Did you know that it is the only public sand beach in Bora Bora? Most of the beautiful sandy coastline is private to the guests of the fancy, high-end resort chains. You'd think that this would mean that the spot is totally overcrowded. Surprisingly, the opposite is the case!
It is peaceful, surprisingly peaceful. Especially during the week, it is still possible to get the odd feeling that you are the only person on the beach when you go there. It's been untouched by mass commercialization and tourism which makes you feel like you found a secluded piece of paradise almost all to yourself!
The best time to visit is during low tide because there will be more space to walk around and enjoy this pristine paradise, and, to maximize your chances to be alone, park at Snack Matira and then head to the right side of the beach (also good snorkeling spot).
What can you do at Matira Beach?
Honestly, the best thing to do while on Matira beach is just... nothing! just lay down on the white, soft sand, let go of any stress and pretend you are the only one on earth. Listen to the rhythmic sound of the waves hitting against the corals, soak in the warm sunshine and simply enjoy the peaceful bliss.
After that, jump into the warm lagoon for a lovely, refreshing swim, even if refreshing might not be the most suitable world as the water never gets below 77 (ish) Fahrenheit.
If you feel a bit more active it's also a great spot for snorkeling. In my opinion, the best spot is on the right side of the beach close to Snack Matira. The water is a little deeper there and you'll find more fish to observe. In the morning you'll also encounter friendly stingrays passing by, very close to the shore.

And if you feel extra adventurous you can walk all the way to the reef in the shallow waters and go check the waves. The water never gets deep, especially at low tide allowing you to walk your way there. Just make sure to bring water shoes so you don't hurt your feet on rocks or little pieces of corals.
There are also a few fun activities waiting for you once you feel like you had enough of swimming and relaxing like Jet Ski. The tour will take you around the island and the base is located in the street near the Intercontinental Le Moana.
Do you want to spend your day as the locals do?
If you want to be alone then come on a weekday but if you feel like soaking up the Polynesian culture, Sunday is your day! Local families from Bora Bora come here every Sunday after church and the famous "Maa'a Tahiti" to spend time together with their beloved ones. Music is playing, children are having fun in the water, and the whole atmosphere is relaxed and friendly.
Sunset at Matira Beach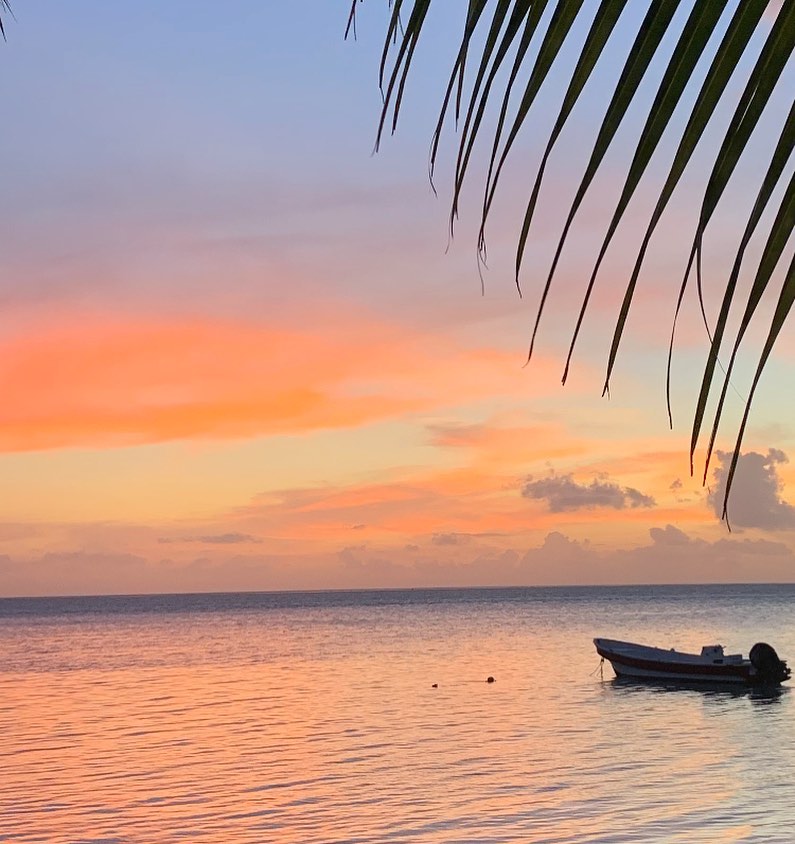 Matira Beach is also the place to be for sunset time. Watching the sun sink into the lagoon while painting the sky in all shades of yellow, pink and orange is a truly magical moment you won't forget! Pro tip : Grab a pina colada from Snack Mohiere and just soak in, you'll get the best views.
Matira Beach's facilities
Recently renovated you'll find a public area just in front of the entrance of the Intercontinental Le Moana Bora Bora with (relatively) cleaned showers and toilets. You'll also find picnic tables there.
Eat at Matira Beach
You'll find several restaurants nearby. From yummy and affordable to fancy and tasty- we got you covered:
If you are on a budget I can recommend two options :
Snack Matira for a quick casual and affordable lunch. Here you will find burgers, steaks, fries, pizzas, and sandwiches. The service is not really friendly but a meal + drink will cost you no more than $15 per person.
My personal favorite is Snack Otoamana where Mamie - as the locals call her - makes one of the best "Poisson Cru" on the island! Poisson Cru is known as the national signature dish of French Polynesia. It is made from raw fish (often it's raw tuna) marinated in coconut milk and citrus juice. Make sure to try it before you go!
A tad more expensive you'll find Bora Bora Beach Club. It is sure to impress you with its gorgeous view of the lagoon. They serve French, European and Polynesian cuisines as well as vegetarian-friendly dishes.
Intercontinental Le Moana is also accessible for lunch to non-guests. They also offer a nice happy hour every night, at sunset time. The only downside is that the resort is not directly facing the sunset.
Best places to stay near Matira Beach
If you wish to stay as close as possible to the beach here are the options available :
This 4-star hotel is the closest one. It is only a 2-minute walk away (you basically just have to cross the road). They have overwater bungalows but also beach bungalows available at a fairly reasonable price.
This popular, award-winning 3-star hotel is a 7-minute walk away from Matira Beach. Here you can stay in a pretty Polynesian room with an ocean view without breaking the bank. They also have a very good in-house restaurant.
Another budget-friendly option is the Royal Bora Bora. Opened in 2020 you won't find bungalows there but spacious rooms at an affordable price.
Local tips about Matira beach & Matira Point
Just 4 little tips to make sure that your gateway is perfect and avoid trouble :
Don't enter private properties. Between the Snack Matira & the Bora Bora beach club, you'll find houses on the shore. They all have a private beaches and locals won't be so happy if you settle in one of them. Usually, you'll find "Tabu" sign, letting you know that is private property. Dogs are also roaming in this area of the beach so it's not the best place to lay down.

Do not leave valuable items unattended. Violent crime is pretty non-existent in French Polynesia but burglary definitely is. If you leave your belongings unattended on the beach chances are they will probably vanish

Bring enough water & sunscreen. There are no facilities at this beach so make sure you don't forget anything.

Note that it is illegal to drink alcohol on the beach in French Polynesia. For an alcoholic drink, you'll have to sit in one of the restaurants or snack.


Hope all these tips will help you and inspire you to visit Matira beach.
Been there already? Let us know in the comments :)