So you've made it to Tahiti, well done! But now you are wondering How to get from Tahiti to Bora Bora like many members of my Facebook group. You need to know that every international flight arrives in Tahiti no matter if you fly commercial or a private jet. You need to go through immigration and customs in Tahiti before continuing your journey to Bora Bora or other islands.

This post will cover everything you need to know about traveling between Tahiti and Bora Bora, including options, schedules, prices, and other helpful information. I will explain how to get from Tahiti to Bora Bora by plane (convenient, quicker but more expensive) and how to get from Tahiti to Bora Bora by ferry boat (cheaper but slower & uncertain).
How far is Bora Bora from Tahiti?
Bora Bora is located approximately 172 miles (277 km) away from Tahiti. Both islands are part of the same archipelago, the Society Islands, so they are pretty close to each other. Despite their proximity, the two islands offer vastly different experiences for travelers. While Tahiti is the cultural and economic hub of French Polynesia, Bora Bora is a secluded paradise that attracts honeymooners and celebrities alike.
How To Get From Tahiti To Bora Bora?
To get from Tahiti to Bora Bora you have two options : Take a plane or a ferry.
Flight is the more popular (but expensive) option. It will take approximately 50 minutes & A one way ticket will cost (at least) $200 per person. It is the best option for travelers who only have limited time on the islands and want to make the most of each days.
Flight is the most popular option for travelers going to Bora Bora, but it can be quite expensive. A one-way ticket typically costs at least $200 per person and the flight takes only around 50 minutes. While it may be costly, it is definitely the best choice for those who only have a limited amount of time on the islands and want to make the most out of every day they have.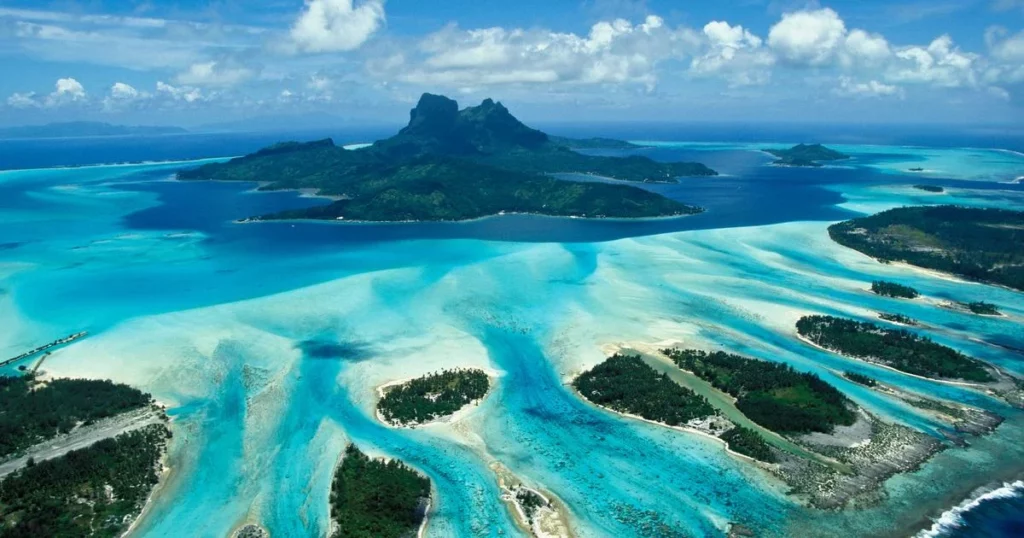 On the other hand, if you are on a tight budget, or if you have extended time on the islands, the ferry could be a great option for you. Although it takes much longer, with the journey lasting around 7 to 10 hours (depending on weather conditions), it only costs around $20 per passenger for one way tickets. This makes it a viable alternative for those who are looking to save money, or for those who want to take their time exploring French Polynesia.
In fact, there's even a third, more exclusive option available to those who have a bigger budget to work with: a private helicopter transfer. This option is definitely for those who are feeling extra fancy, as the price starts at $9500 for inter-island helicopter transfers between Tahiti and Bora Bora. However, if you're willing to splurge a bit, this could be the most convenient and luxurious way to travel to your Bora Bora resort. The helicopter ride is very quick and you will be able to enjoy stunning views of the islands from high above.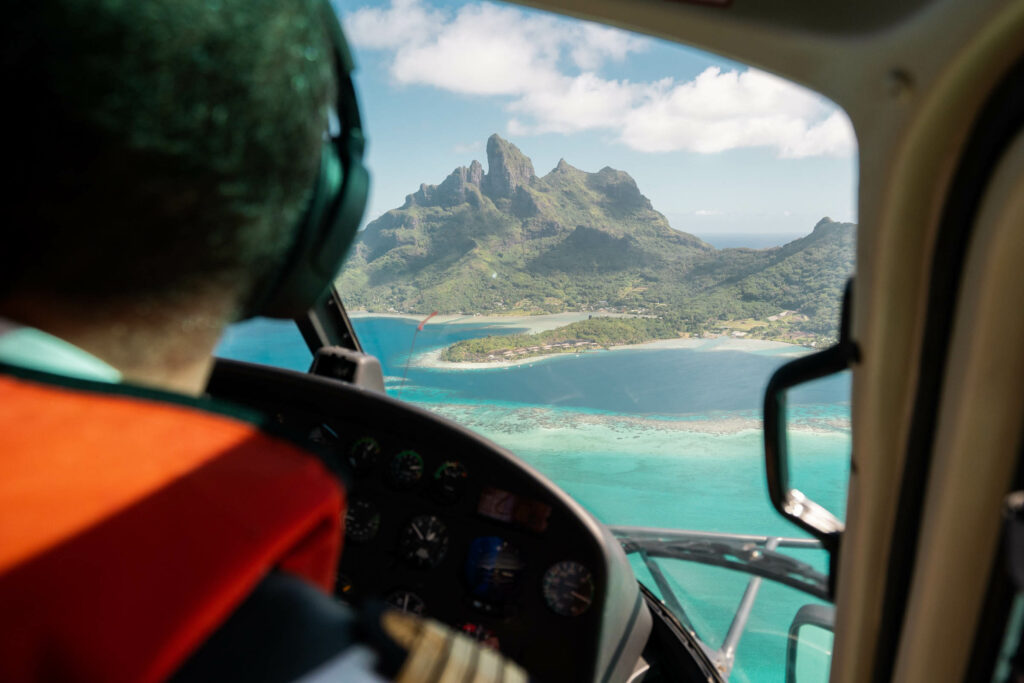 Flights from Tahiti to Bora Bora
As previously stated, flying from Tahiti to Bora Bora is the quickest and most convenient way to travel. All flights to Bora Bora Motu Mute Airport (BOB) depart from Tahiti's Faa'a International Airport (PPT). Once you arrive in Bora Bora, you'll need to take either the free ferry to the main island or a boat transfer directly to your resort (most of which are also located on islets).
All resort has a small booth at the airport to welcome you and direct you to the correct boat.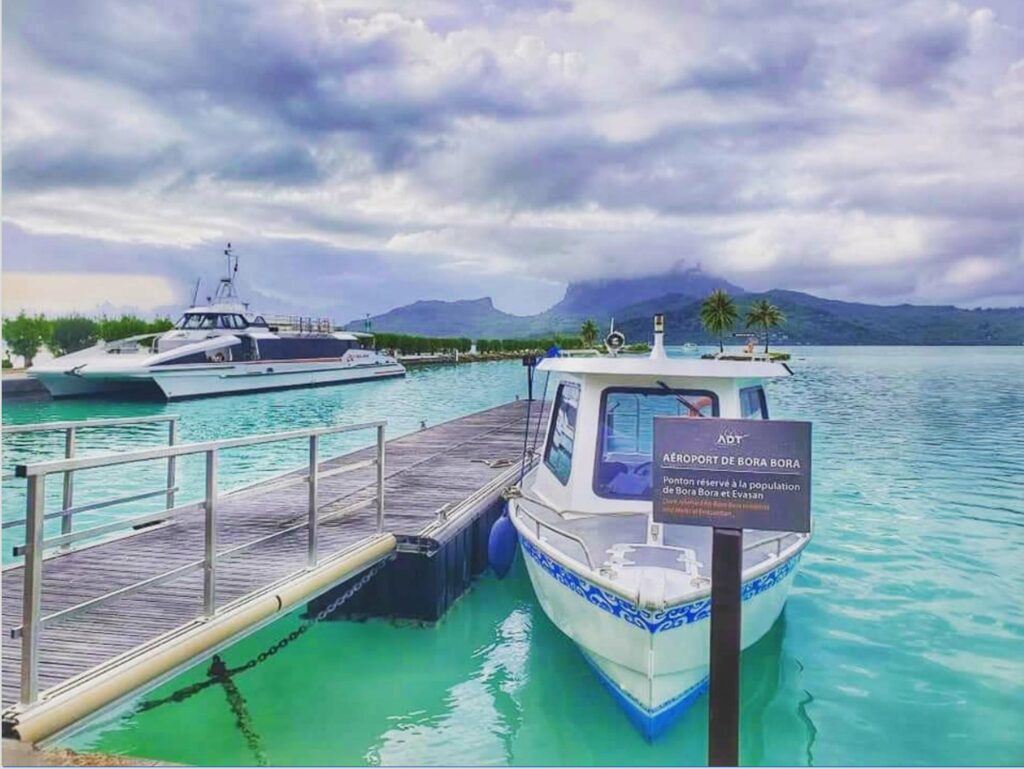 Good to know
The Bora Bora airport is so small that there aren't even any security checkpoints 😂, so you definitely won't get lost.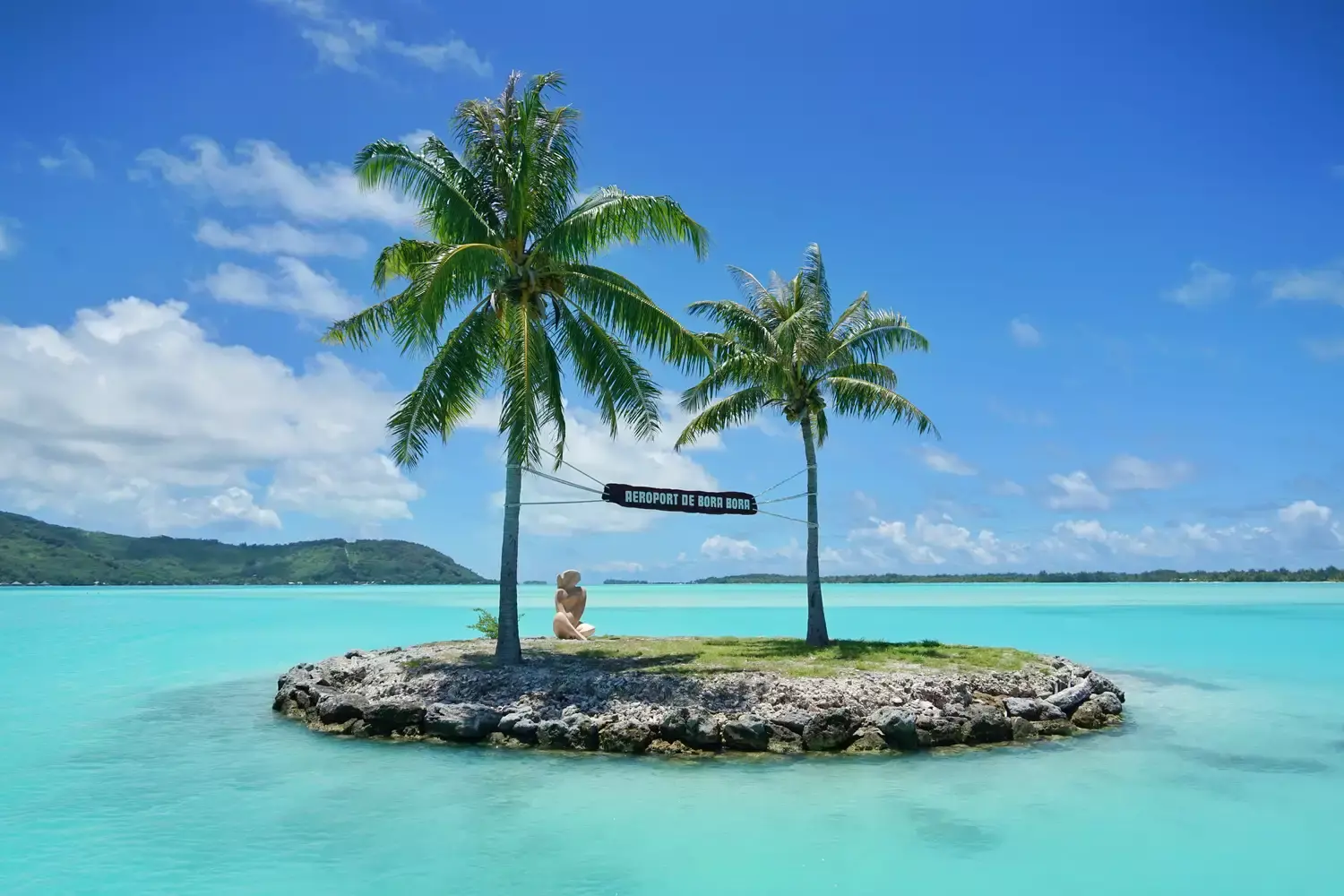 Which airlines fly to Bora Bora?
In French Polynesia, only two airlines operate inter-island flights: Air Tahiti (the historical one) and the recently launched Air Moana (first flight in 2023).

Every day, both companies operate several flights between Tahiti and Bora Bora. The number of daily flights varies, but there are usually 5 to 10 flights per day. The majority of flights are in the morning, with fewer afternoon flights and no night flights at all.
How Long is the Flight From Tahiti to Bora Bora?
The flight from Tahiti to Bora Bora takes approximately 45 to 50 minutes.
Keep in mind that not all flights from Tahiti to Bora Bora are direct. Some flights may make additional stops on other islands to drop off or pick up passengers. Most stops are only a few minutes long, and you are not required to exit the plane. However, after spending several hours on a plane and/or having multiple layovers, the last thing you need is another layover to get to Bora Bora. So, try to find direct flights.
Insider Tips
For the best views of the island make sure to sit on the LEFT SIDE of the plane when boarding in Tahiti (and on the RIGHT SIDE when leaving Bora Bora). Seats are first-come, first-served, so get in line quickly for boarding. You won't regret it.
How Much is a Flight From Tahiti to Bora Bora?
The average flight from Tahiti to Bora Bora costs $215 per person (one way).
I can hear you saying it from here: Yes, that is pricey for just an hour-long flight.
Although I had hoped that the new company Air Moana would help to significantly lower prices, as of this writing (March 2023), the prices for both airlines are comparable. Air Moana is slightly cheaper, with an average price of $202 per person per way during peak season. In comparison, Air Tahiti's average peak season fare is $240 per person, per way.

Here is a real exemple with the same round trip (September 1st / September 8th), in peak season with both companies.
By booking with Air Moana you save $71 – a nice lunch or 3 cocktails in your resort.
It's important to note that both companies have extremely strict luggage policies on domestic flights. Passengers on basic fares are allowed one handbag plus one accessory (such as a laptop), with a combined weight limit of 5kg (11lb). The fare also includes 23kg of luggage. Both checked and carry-on bags will be weighed, and going over the weight limit will result in additional fees. Make sure you don't exceed the weight limit to avoid these fees. Both airlines allow you to increase your baggage allowance to two 23kg luggage (a total of 46kg) if needed.
Good to know
The planes that fly to Bora Bora are small, and if the plane is full, your luggage may arrive with the next flight. Don't be surprised or alarmed if this happens; it's a common occurrence.
Budget Tip
When budgeting for your flight to Bora Bora, it's important to remember to include the price of the boat transfer in your budget. The shuttle is free if you stay on the main island. However, if you are staying in a top motu resort, the transfer can be expensive. The resort will arrange it for you, and a round trip should cost between $150 and $300 per person. Alternatively you can book a private transfert (cost effective if you are travelling as a group).
Flight schedule between Tahiti and Bora Bora
Flight schedules are subject to change at any time, so here are useful links if you want to check the most recent flight schedule for each company:
How to save money on flight between Tahiti & Bora Bora
So you want to try to save money on your flight between Tahiti & Bora Bora?
Here are 4 simple ways to do so :
Travel off peak seasons
While there may not be a huge difference in ticket prices, they are typically a little cheaper during the off-season. Between December and March you can find round trip ticket for as little as $328. The same flight will cost you up to $395 between May & October. Make sure to check my weather guide in Bora Bora to know what to expect if you travel off peak season.
Avoid booking your ticket(s) last minute
As with any airline, if you book your plane ticket(s) last minute, you can expect to pay more, so try to plan ahead.
Book a round trip ticket
By purchasing a round trip ticket and not 2 one way ticket, you'll be able to save some money. But this only work if you only plan to visit Bora Bora and not other islands during your trip. The average price for a round-trip ranges from $328 to $395 per person while booking 2 one way flight cost roughly $420.
Book an AirTahiti Pass
If you plan to visit more than one island in French Polynesia during your trip, consider buying an AirTahiti pass. It will save you a lot of money! The pass allows you to visit multiple islands, and you have several options depending on which islands you want to visit.
The most affordable pass that includes Bora Bora is called the "Bora Bora Pass" (original, isn't it ???? ?). This pass includes your Bora Bora ticket as well as additional islands to choose from: Moorea, Huahine, Raiatea, and Maupiti. You can visit up to 5 islands with this pass, but you don't have to. For a first trip, my recommendation is to include at least Bora Bora and Moorea. The price remains the same and varies only according to the season, not the number of islands visited.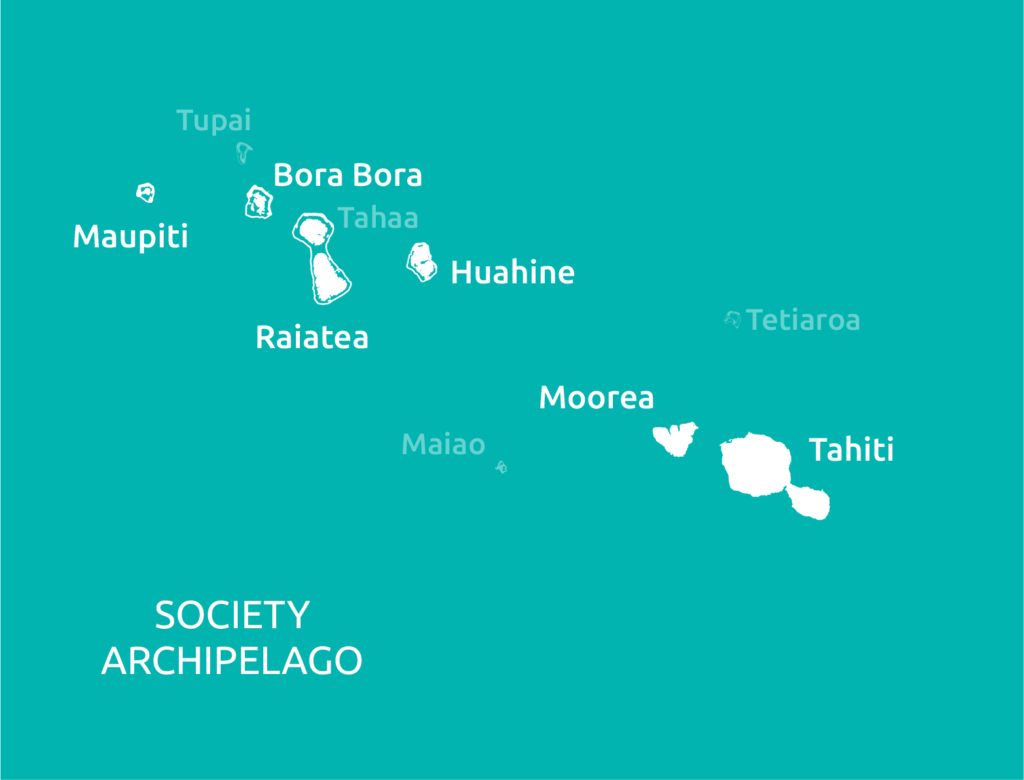 There are also several Air Tahiti passes available if you want to visit some of the less well-known islands, such as Tikehau and Fakarava, but they are significantly more expensive.
Click here to check the up to date prices of AirTahiti Passes
Air Moana Pass
As of writing these lines (March 2023), Air Moana has not yet launched passes, but it is on their roadmap. Hoping for friendly prices 🙂
Ferry from Tahiti to Bora Bora
If you're on a tight budget and have plenty of time, taking the ferry from Tahiti to Bora Bora is a great option. Inter-island ferries are operated by two companies: Apetahi Express and Vaeara'i.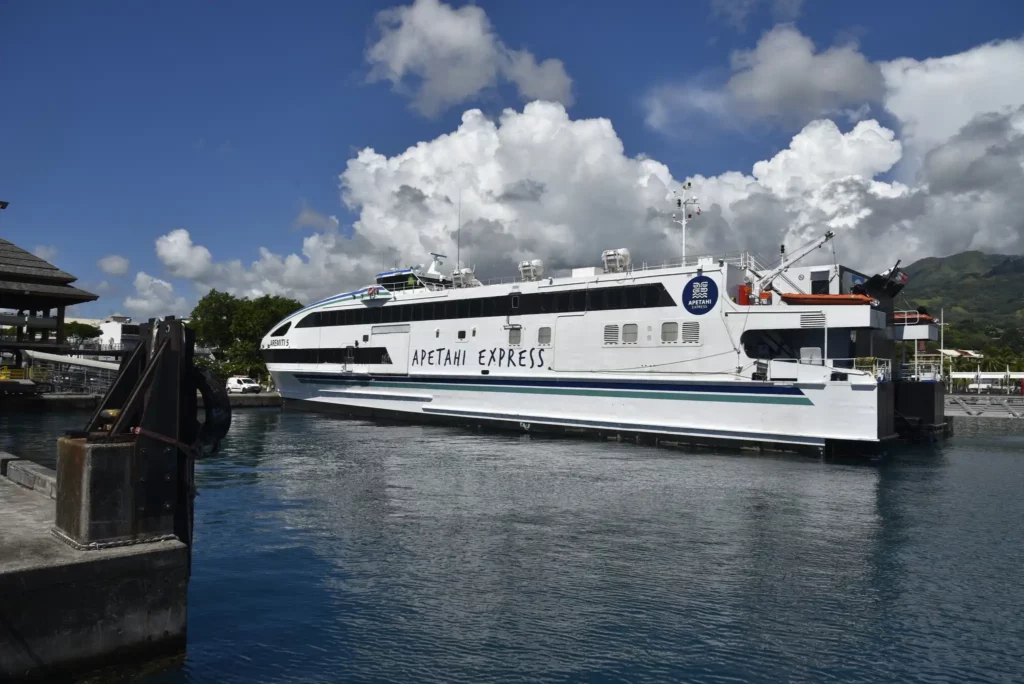 Both ferries provide plenty of space with comfortable seating equipped with AC, a sun deck (which is only open when the sea is calm), and a snack bar with affordable food and drinks (I recommend trying the smoked fish panini – it's delicious 🤤).
Taking the ferry is an excellent way to experience local life since most of the people aboard will be locals. They often perform live music during the cruise.
The journey is never direct, as the ferry will make stops at other islands along the way, giving you a glimpse of Tahaa, Raiatea, and Huahine, as well as stunning views. If you're lucky, you may also see dolphins playing with the boat and whales during the season.
There are usually at least two boats (up to four boats per week).
So, if you don't mind the long journey and want to experience local life for half the price of a plane ticket, the steps below will walk you through how to take the ferry from Tahiti to Bora Bora.
How long is the ferry from Tahiti to Bora Bora?
In average the ferry from Tahiti to Bora Bora is 8H.
Good to know
Always keep in mind that travel time is completely dependent on the weather. If the sea is rough, the journey may take much longer. For this reason, it is not recommended to book a flight on the same day as the ferry ride, as there is a risk of missing the flight if there are any delays due to rough seas.
How Much is a ferry From Tahiti to Bora Bora?
The price for a one-way ferry ticket between Tahiti and Bora Bora ranges from $80 to $125.
This price always includes 46kg of luggage, so you won't need to worry about exceeding the weight limit. You can even bring your car on Vaeara'i! You can book your ticket online through the following websites, both of which are in English.
Insider Tip
Upon booking you will need to choose between a "Resident" or "Tourist" ticket. Resident tickets are cheaper, but you may be asked to provide proof of residency when boarding. If you cannot provide such proof, you will be charged extra fees. To avoid this risk, stick to the tourist ticket.
Ferry from Tahiti to Bora Bora Schedule
Up to five boats leave Tahiti for Bora Bora every week. The schedule is subject to change at any time, so click here for the latest schedule from each company.
How to Get to the Ferry Dock from Tahiti Airport?
The ferry dock is in the heart of Papeete. The best way to get there from the airport is to take a taxi (there will be plenty waiting for you). The trip will cost you around 2,000 XPF and take about 15 minutes if there is no traffic.
Unlimited Ferry Pass
Apetahi Express recently launched an inter island pass that allow you to visit multiple islands without breaking the bank. The pass gives you the chance to enjoy the stunning beauty of the Society Islands without having to worry about the cost. The price is fixed at 26 900 XPF (around $240) and includes unlimited travel on Apetahi boats for 31 days. The islands included are Tahiti, Moorea, Huahine, Raiatea, Taha'a, and Bora Bora.
Important things to consider before booking your ferry
Although taking the ferry is an inexpensive and authentic way to experience local life and culture, there are some important things to keep in mind before booking.
This option is NOT for you if you get easily seasick. The ride can be rough. Even if the weather forecast looks good on the day of your trip, I recommend that you stop at a local drug store ("Pharmacie" in French) and ask for "Mercalm" before boarding. This is an anti-seasickness pill. Take two pills 30 minutes before leaving and repeat six hours later if necessary (⚠️ Please

always read the label

before taking any new medication). If you start to feel unwell, head to the sundeck if it's open, breathe some fresh air, and stare at the horizon. If the sundeck is closed, take a seat in the center of the boat.
Last insider tip: If you get too sick, lying down on the floor helps (I promise no one will give you looks).


Sometimes the boat simply cannot depart. If the sea is too rough and the journey becomes unsafe, it will be canceled at the last minute without notice. Check their Facebook page to find out whether or not your boat will depart. If your boat is canceled, you must either wait for the next one or book a last-minute backup flight. As a result, if you are on a tight schedule, this option is not recommended.


Because all boats leave very early in the morning, you have to spend the night before in Tahiti.
And voilà!

Thank you for reading this post about how to get from Tahiti to Bora Bora, I hope It's gonna help planning your dream trip. Whether you choose to take the ferry or the plane, I'm sure you'll have an unforgettable experience in Bora Bora. So, pack your bags and get ready for the adventure of a lifetime!
📌 Pintastic? Add it to your Pinterest board ⬇️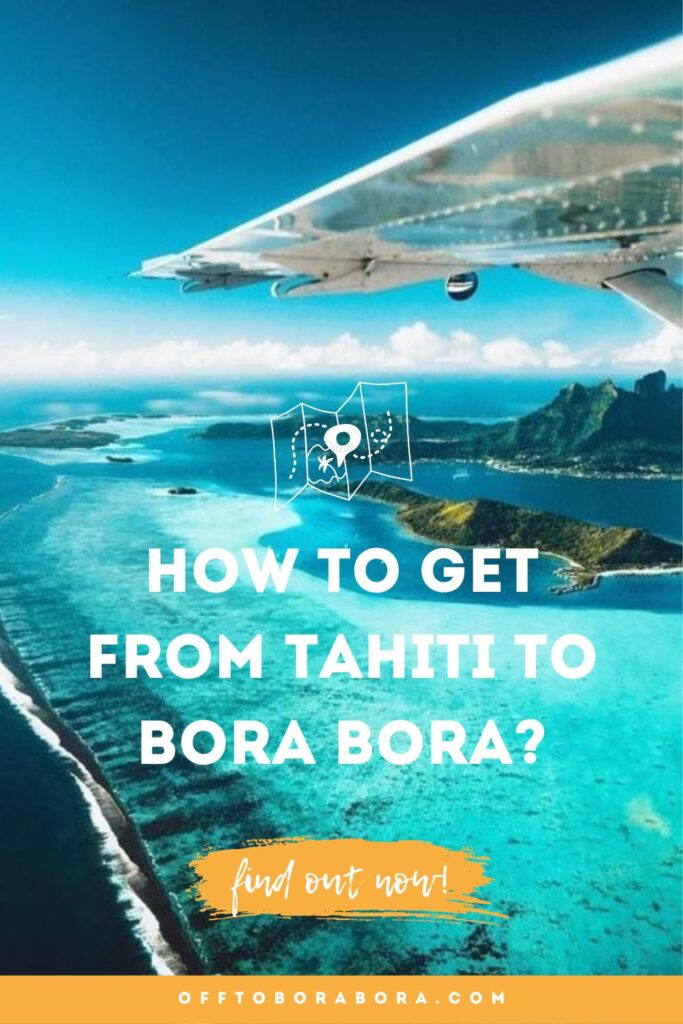 Frequently Asked Questions + Quick Answers about how to get from Tahiti to Bora Bora.
What is the best way to get from Tahiti to Bora Bora?
The best way to to get from Tahiti to Bora Bora for travelers is taking the plane.
How long is the boat ride from Tahiti to Bora Bora?
In average the boat ride between Tahiti (Papeete) & Bora Bora takes 8H.
How much does it cost to go from Tahiti to Bora Bora?
The cost of traveling from Tahiti to Bora Bora ranges from $80 to $250, depending on how you choose to travel.
Is there a ferry from Papeete Tahiti to Bora Bora?
Yes, two companies operates ferry rides between Papeete (Tahiti) and Bora Bora : Apetahi express & Vaeara'i.