Thinking about a babymoon in Bora Bora? Or still stuck researching the best babymoon destinations? No worries! In this post, I share everything you need to know to decide if Bora Bora is the right place for you.
Why Bora Bora as your babymoon destination?
Simple. If your dream babymoon destination includes lazy days with epic sunsets, swaying palm trees, coconut in your hand, and everything being handled for you, then…you'll love it here! ;)
The remote location, intimate atmosphere, and divine scenery are just a few reasons why people fall in love with Bora Bora. This is the perfect place to slow down, decompress, and enjoy some last ~ uninterrupted romance~ with your loved one.
Does the idea of walking barefoot on a pristine white-sand beach followed by a swim in a turquoise lagoon, and chilling in an overwater hammock make your heart flutter? Well, then start packing!
Babymoon Bora Bora: Top activities to enjoy ~that one last time~
Let's dive deep into all the exciting ways you can spend your Bora Bora babymoon!

But remember. This is your time to slow down, unwind, and prepare for what's to come. If all you want to do is to reconnect with your partner, get away from work and other distractions, and do absolutely nothing else on your babymoon, that's fine too.

So, let's start with our chill babymoon ideas that put Bora Bora on the top of the best babymoon destinations list.
Have a well-deserved lazy time in your resort
As new parents to be, you might soon be sleep deprived and constantly busy. Take this relaxing babymoon time to enjoy a night of peaceful sleep, cuddle up, and sleep in!
Then, take advantage of your resort's amenities and spoil yourself a little. Lounge by your own private pool, grab mocktail after mocktail, look at the view, and listen to the sound of the waves in the distance. 
Embrace the tranquillity of Bora Bora life and have the best babymoon!
Paddle/kayak around the lagoon
Paddleboarding or kayaking makes a great way to explore the beauty of Bora Bora. Why not go for a lil' adventure?! You'll love the transparent waters with colorful sea life. If you're careful enough, you might even spot some dolphins or vibrantly colored fish.
Spoil yourself & get pampered in a SPA
What better way to soothe the achy body than getting a maternity massage? Many resorts have full-service SPA facilities, with lots of relaxing SPA treatments to choose from. Some even offer mind-blowing views of the lagoon and Mount Otemanu.
The best? Their beds can sit on glass panels above the lagoon allowing you to watch the sea life underneath you during your prenatal massage!
Eat all the delish local food
Indulge in all the local foods, experiment, and explore with your tastebuds. If local delights and being adventurous with food aren't your thing, no worries. Most resorts offer an on-site restaurant with different cuisines from various places in the world. 
I realize that many pregnant women have limited food options and get pregnancy cravings. For this reason, read our section on the resorts down below, where I share the top 3 resorts to stay at (with a wide range of restaurants & cuisines to choose from).
Go on a date night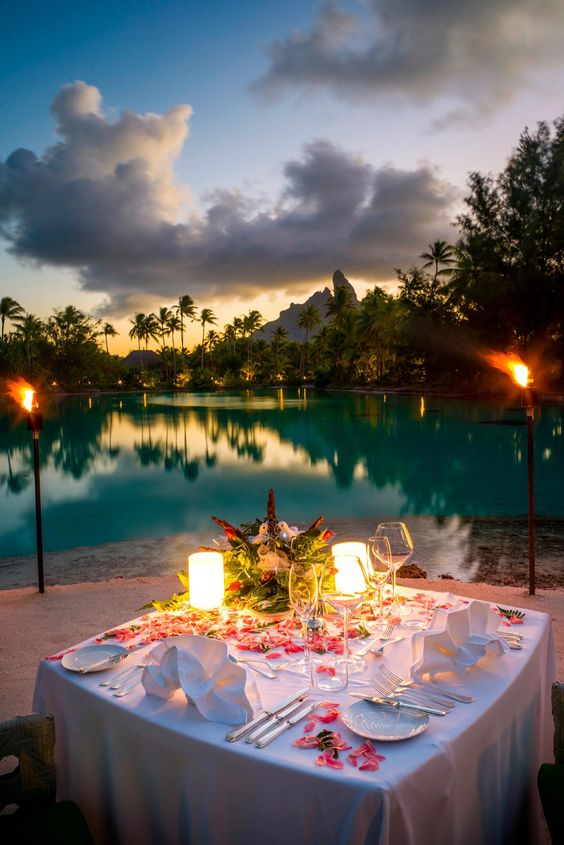 Does an elegant dining experience with just the two of you on the beach under the night sky full of stars sound like something for you? Well, you can have that in Bora Bora!

You'll take a canoe to a private white-sand motu or you'll be escorted to a secluded private section of the resort's before the sun goes down. Then, the local staff will greet you with a welcome drink and you'll get a personalized dinner while watching the sunset. Of course, you'll be able to stay longer and have some romance in the dark.
Snorkel with the colorful marine wildlife
Curious about all the unique wildlife underwater? Go for a snorkel tour in the turquoise waters and maybe even spot some of the exotic sea animals – anything from tropical fish, stingrays, friendly sharks and (if very lucky) dolphins, Manta Rays, and even whales when it's the season!
You can either do this by yourself (the resort will lend you snorkeling gear) or take a guided tour (shared or private).
If you decide to take the tour, expect a full day of adventure. Your guides will pick you up on a boat and take you to some breathtaking locations. You'll visit the coral garden, and also get to interact with mesmerizing stingrays, schools of black-tip reef sharks, and lemon sharks (these are friendly and used to people). 
Lastly, you'll finish your day with a Polynesian lunch on a private motu (island). 
Get a 'parents-to-be photoshoot'
Capture the pregnant glow and hold onto this moment forever! Get a professional mom-to-be photoshoot with one of the amazing photographers on the island. Just imagine the feeling of one day showing these photos to your little one when they're older.
Chill in an overwater hammock
Some resorts in Bora Bora are on beautiful beaches with overwater hammocks in the ocean. This is a great spot to relax, soak in the sunshine, and be a beach bum for a day (or a week!).
You can bring a book or just people-watch and enjoy the scenery of Mount Otemanu and the white sand beaches (and remember to put plenty of sunscreen)!
Babymoon Bora Bora: Activities to avoid while pregnant
So are there any activities in Bora Bora to avoid while pregnant?
Yes. Firstly, if decide to do any activity mentioned, discuss this with your doctor beforehand. My advice? Avoid all the potentially dangerous activities – anything from driving jet-skis or ATVs (because they can be very bumpy), surfing, flyboarding or even taking a helicopter tour (because of the pressure).
Babymoon Bora Bora: Safe Activities to do in Bora Bora
Here is a selection of safe activities that a pregnant women can partake on in Bora Bora :
Money Saving Tips
The resort takes a (big) cut from vendors (regular commissions are 22% to 25% in Bora Bora – sometimes more depending on the agreement). Therefore, it will cost you more to book through them. Also read : 5 easy tips to save money in Bora Bora.
The 3 dreamiest luxe resorts to stay at
Here are my top picks of gorgeous resorts with outstanding SPA amenities, excellent service, private plunge pools, and a wide selection of on-site restaurants. Yes, here, you'll find more food options than just the usual ones with raw fish.
This luxury resort specializes in SPA treatments in an idyllic setting right between the turquoise waters of the lagoon and the deep blue of the Pacific Ocean. The treatment cabins even have glass floors allowing you to admire the marine life while getting pampered. 
Check out their SPA menu here.
If you're looking for an escape in a tropical paradise, this is it. Just like the other luxury resorts, it's located on a private motu (island) with gorgeous views of Mount Otemanu. Watch sunsets right from your plunge pool in an over-water bungalow, tan on a private beach, and get spoiled with their world-class prenatal SPA services.
This luxury hotel also comes with its on-site day SPA (Hina SPA). You can expect a SPA treatment in a massage suite with views of the lagoon. And of course, classy overwater bungalows surrounded by pristine beaches. 
Insider Tips
If you're traveling on a budget, you can easily stay in an AirBnB and book a Spa day pass at Intercontinental Thalasso to enjoy the facilities without breaking the bank! Also, download my free e-book to help you find ways to save money and still enjoy this perfect babymoon destination. 
Quick tips to make your babymoon safe & comfy
Travel in your second trimester
Most people say this should be the most comfortable time. The initial symptoms should be gone, and your belly is not yet too big. However, make sure you consult this with your medical professional and that you know it's safe for you to fly.
If you're flying past the 28-week mark (which I don't recommend), you might even need your doctor's note to be able to board the plane. Otherwise, some airlines may not allow you to fly.
Prepare for a LONG flight
It's about 15 hours if you're going from NY, USA. Make sure you have everything you need to feel warm and comfy on the plane and maybe even book the first class.
Ensure all your meals are fully cooked
Avoid eating refrigerated meat spreads and raw animal proteins (unfortunately, raw fish is a common local delight here). Always tell your waiters to cook your eggs until the egg yolks and whites are firm. If you're sensitive to many foods, I recommend the St. Regis resort – they have the most (and best) food options of all resorts here. 
Travel during the right season
The heat can be more difficult to tolerate when pregnant. To ensure a more comfortable Babymoon, aim to travel during the dry season when the temperature and humidity are lower, making it more comfortable for you.
Let go of the pressure
Don't pressure yourself into any activities you don't feel comfortable with. This is your time to be free to do nothing and just relax.
Be smart about your budget
Of course, you want to have an amazing time but this probably isn't the best time to get in debt. Instead, download my free ebook and discover easy ways to save money in Bora Bora. 
What about the Zika virus? Any dangers?
No. This mosquito-borne virus, similar to dengue fever, is quite common in many tropical countries. If infected while pregnant it can cause birth defects in your baby and other brain problems.
Fortunately, Bora Bora is considered one of the best Zika-free babymoon destinations. According to multiple sources, there have been no cases since 2017. Also, no Malaria or other dangerous diseases.
And voilà!
So, you ready for this romantic getaway?
Hopefully, this article showed you why Bora Bora makes one of the best babymoon destinations, and we'll see you there! If you have any questions, ask them in our active Facebook group. Either me or some other lovely travelers will answer and share their experiences. 
📌 Pintastic? Add it to your Pinterest board ⬇️